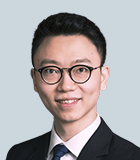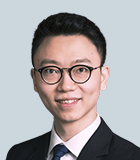 Kevin Zhai is a director in the Restructuring practice and is based in Hong Kong. He has over 10 years of experience in corporate finance, financial restructuring, litigation support and corporate recovery.
Kevin provides a wide spectrum of services to his clients. He was responsible for multiple restructuring and transaction advisory engagements, covering debt restructuring, mergers and acquisitions, valuation and financial due diligence. He was also engaged in both formal and informal insolvency procedures, including liquidations, receiverships, bankruptcies and scheme of arrangements.
Kevin was previously a director at FTI Consulting in the Corporate Finance & Restructuring department, focusing on restructuring and transaction advisory services. Prior to his work with FTI Consulting, Kevin was a Manager in the Specialist Advisory Services department of BDO Hong Kong, where he was mainly responsible for handling valuation, financial modelling and financial due diligence engagements.
Kevin holds a Bachelor of Business Administration from Lingnan University and is qualified as a member with the Hong Kong Institute of Certified Public Accountants. He is fluent in Mandarin, English and Cantonese.
Kevin's major assignments include:
The recovery of a distressed Hong Kong-listed company as the company's independent financial advisor. Kevin conducted liquidation analyses, interviews, and site visits to assess the company's status & ability of repayment. He participated in the subsequent communications with stakeholders especially the lenders in respect of the restructuring proposal. A debt restructuring was successfully achieved.
The restructuring of a distressed multinational group with key operations in different jurisdictions including the PRC, Thailand and Vietnam. Kevin conducted fundamental and cash flow analyses to assess the best option out of extension, hair-cut and liquidation etc. for lenders.
The investigation into a Hong Kong-listed plastic household products manufacturer and distributer pertaining to the misappropriation of its assets by former directors, and the subsequent Scheme of Arrangement for the restructuring of its debts with investors and creditors.
The receivership of shares in a Hong Kong-listed financial service provider with the successful disposal of the shares to maximise recovery for the lender.
The litigation support / dispute resolution support in connection with valuation and quantum of damages.
The financial due diligence on an Indonesian telecommunication group in support of its acquisition by a Special Purpose Acquisition Company (SPAC).
Qualifications:
Member of the Hong Kong Institute of Certified Public Accountants
Member of the Restructuring and Insolvency Faculty of the Hong Kong Institute of Certified Public Accountants
Member of INSOL International
Bachelor of Business Administration, Lingnan University
---
Restructuring
Restructuring
Financial and operational restructuring and enforcement of security, including investigation, preservation and realization of assets for investors, lenders and companies.
Return to top