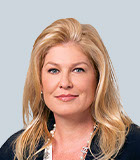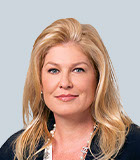 Kelly Beaudin Conlan
Managing Director
Kelly Beaudin Conlan, a managing director in the Restructuring practice based in New York, brings extensive global experience and over 25 years as a financial adviser, fiduciary, prosecutor and former regulator. She is an interdisciplinary practice leader whose industry expertise spans the auto, mass tort, manufacturing, logistics and financial sectors. Kelly regularly advises global companies on structural optimization, the Foreign Corrupt Practices Act, mass tort, and regulatory matters.
Kelly's previous experience includes acting as the U.S. Trustee for Region 3, a role appointed by President Bush in January 2005. In this role, she managed five state offices and was accountable for all bankruptcies filed in Delaware, Pennsylvania and New Jersey. She was responsible for hundreds of significant business and corporate restructurings, including Owens Corning, New Century Financial, Dura Automotive Systems and Sharper Image; working with distressed companies, creditors and lenders.
Before her appointment, she was in private practice from 1997-2005 and began her legal career in 1995 as an Assistant District Attorney in the Philadelphia District Attorney's Office.
Kelly earned a bachelor's degree from the University of California, Los Angeles, and a juris doctor degree from Georgetown University Law Center. A frequent speaker and author on restructuring nationally, she has lectured at the Harvard Business School and been featured in the Wall Street Journal and on Bloomberg.
With more than a decade of board governance experience, Kelly currently sits on the boards of Bimini Health Tech, Riddle Memorial Hospital, and the Forum of Executive Women. She serves on the Advisory Council of the International Women's Insolvency and Restructuring Confederation.
---
Conlan
/en/our-team/kelly-beaudin-conlan
/-/media/kroll-images/headshots/kelly-beaudin-conlan.jpeg
people
{5EDC6FDB-1A87-4447-A226-76CA6CD31223}
{0840D7ED-B8E4-48DD-8F31-7345340BF1D9}
{047C49DE-F44A-4E06-9DE8-782E565F291A}
{2DEEE4D2-8278-4C50-B3FF-1563BB257804}