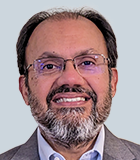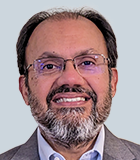 Jagdish Dhobley
Chief Technology Officer, Kroll Digital Solutions
Jagdish Dhobley is the Chief Technology Officer (CTO) and Managing Director of the Private Capital Markets practice at Kroll Digital Solutions, based in New York. He leads the development of the Kroll Valuations Platform.
As a seasoned technology executive with a distinguished career as a CTO in the financial industry and a strong foundation in both technology and finance, Jagdish has played a pivotal role in shaping the digital landscape of financial institutions, driving innovation and ensuring technological excellence.
Prior to joining Kroll, Jagdish served as Principal at IBM. Within that role, he collaborated with technology executives in the financial industry to navigate IBM's transformation journey, unlocking the full potential of hybrid cloud technologies. He was also a key driver behind the IBM Data Fabric strategy and its successful implementation as a payments client. This initiative created a self-service data marketplace and an enterprise-wide AI factory, ultimately enhancing productivity, performance and quality.
Before IBM, Jagdish held the title of Head of Technology & Program at Moody's Analytics. There, he was recognized for his role in building and operating prominent public-facing financial platforms. These platforms empowered global financial institutions to make timely portfolio management decisions and achieve regulatory reporting compliance, all while delivering exceptional business value to clients. His technology strategies for multi-million-dollar portfolios significantly reduced time-to-market by 30% and drove substantial revenue growth and margin expansion through the execution of strategic roadmaps.
Jagdish is deeply committed to innovation and transformation. In acknowledgment of his forward-thinking leadership, he established a FinTech incubator to foster a startup culture and develop core competencies in cutting-edge technologies such as machine learning and blockchain. Furthermore, Jagdish has built and led large global teams while cultivating a diverse and inclusive culture that nurtures a high-performing and collaborative environment.
Jagdish received a bachelor's degree in computer science and a master's degree in technology management from Columbia University.
---
Digital Technology Solutions
Digital Technology Solutions
Enriching our professional services, our integrated software platform helps clients discover, quantify and manage risk in the corporate and private capital market ecosystem.
Return to top