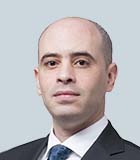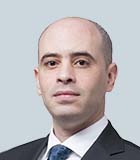 Isaac is a director in the Valuation Advisory Services practice in Madrid where he specializes in Fixed Asset Valuation Services. Isaac has been involved in the valuation of a diverse range of businesses and asset types, encompassing mainly industrial, hospitality and commercial property, machinery and equipment, for multiple purposes including privatization, purchase price allocation, insurance, financing, M&A, strategic advisory, accounting and tax.
Isaac's consulting expertise includes managing and undertaking tangible fixed asset valuations for national and multinational enterprises across a variety of industries including Food & Beverages, Paper, Packaging & Graphic Arts, Ports & Airports, Government, Chemical Industry, Metalwork & Mining, Utilities, Automotive Industry and Real Estate.

Isaac was educated as an architect and has continued his education with various other professional engineering and valuation courses.

Professional Affiliations:
MRICS, professional member of Royal Institution of Chartered Surveyors

ASA, Accredited Senior Appraiser, Machinery and Equipment Specialty
Isaac is currently Vice-President of the American Society of Appraisers European Chapter Committee, and director for Spain Liaison of the ASA International Virtual Chapter.
---
Bittan
/en/our-team/isaac-bittan
/-/media/kroll-images/headshots/isaac-bittan.jpg
people
{69686C52-C3A5-4F48-97D8-5546105882C4}
{9559D233-50B3-4565-806B-6E78B584C0FF}
{5419187B-E80D-47FC-B403-35B1DB1FACD6}
{70E25357-B690-49B8-948F-958DAD26DCD4}