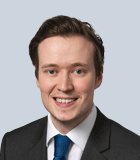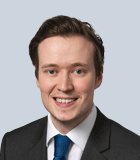 George Glass
Senior Vice President
George Glass is senior vice president in the Cyber Risk business, based in London. George leverages more than seven years' experience in building, deploying and operationalizing on-premise and cloud-based technologies and has a proven track record for optimizing and automating operations to reduce detection and response times.
He delivers analysis on vulnerabilities, malware and threat actors to hundreds of clients, including FTSE 50 companies, ensuring detection of the latest threats across multiple security information and event management (SEIM) and endpoint detection and response (EDR) solutions.
Prior to joining Kroll, George served as a lead detection engineer at PhotoBox. Before that, he held the title of cybersecurity technical specialist at financial services company, Fidelity International. Prior to working in the private sector, George worked for the UK's Ministry of Defense.
George's expertise has been featured in Wired magazine, SC Magazine and Computer Weekly. He has also presented at leading cybersecurity conferences, including Infosecurity Europe and Open Worldwide Application Security Project (OWASP) events.
He holds a master's degree in mechanical engineering from Brunel University in London.
---
Cyber Risk
Cyber Risk
Incident response, digital forensics, breach notification, managed detection services, penetration testing, cyber assessments and advisory.
Cyber Threat Intelligence
Cyber Threat Intelligence
Threat intelligence are fueled by frontline incident response intel and elite analysts to effectively hunt and respond to threats.
Incident Response and Litigation Support
Incident Response and Litigation Support
Kroll's elite security leaders deliver rapid responses for over 3,000 incidents per year and have the resources and expertise to support the entire incident lifecycle.
Kroll Responder MDR
Kroll Responder MDR
Stop cyberattacks. Kroll Responder managed detection and response is fueled by seasoned IR experts and frontline threat intelligence to deliver unrivaled response.
Penetration Testing Services
Penetration Testing Services
Validate your cyber defenses against real-world threats. Kroll's world-class penetration testing services bring together front-line threat intelligence, thousands of hours of cyber security assessments completed each year and a team of certified cyber experts — the foundation for our sophisticated and scalable approach.
Return to top