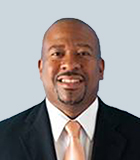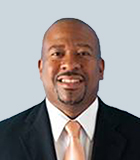 Earl J. Criddle Jr. is a director in the Fixed Asset Advisory practice, based in Los Angeles.
He leverages more than 21 years of valuation experience in assisting clients from the public and private sector, including buildings and fixed asset inventories for purposes for insurance and accounting (GASB34).
He oversees and is the primary reviewer on some of the largest risk pools in the Western region. He specializes in the management, performance, quality, fee generation and profitability of the West Coast operations. He collaborates closely with business development personnel to establish new business.
Earl's other engagement highlights include land improvements, infrastructure, water/wastewater facilities/systems, municipalities/special districts, resorts and casinos, universities, airports and ports.
Earl holds a B.S. in finance with a minor in accounting from Xavier University of Louisiana. He is an accredited senior appraiser with the American Society of Appraisers for Machinery and Technical Specialties/Machinery and Equipment. He is also involved with the Appraisal Institute's Uniform Standards of Professional Appraisal Practice Course (USPAP).
---
Return to top