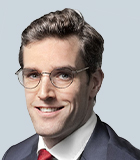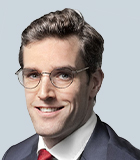 Dominic Moger
Senior Director
Dominic Moger is a senior director in the Forensic Investigations and Investigations practice, based in London. Dominic specializes in information security-related casework, with an emphasis on leaks of information inquiries, employee wrongdoing cases, social engineering attacks and reputational risk management work.
Prior to joining Kroll, Dominic worked at a think tank specializing in behavioral and social dynamics, in the context of international terrorism, having travelled extensively throughout the Middle East.
Dominic helped lead the investigation into the misuse of funds, distributed by a major international sporting governing body, to its member associations. Through the review of procurement processes adopted by certain member associations, Kroll identified a sample of contracts with third parties to analyse. We were able to prove that senior executives circumvented proper tendering protocols and routinely contracted with companies owned by fellow senior executives or other related parties.
Dominic managed a workstream of a wide-ranging anti-corruption investigation on behalf of a government in West Africa. Specifically, he led the team investigating financial conduct at a major state-owned agricultural entity. Through the integration of large volumes of data, from electronic communications, document review, in-person interviews and formal court-mandated disclosure, the investigation concluded with the arrest and prosecution of two senior figures involved in the scheme.
Dominic managed the investigation into the leak of financial data on behalf of a state-owned entity in the Gulf. The investigation comprised the collection, review and analysis of a large volume of electronic communications data, hard-copy documents and interviews with key personnel. The investigation found the likely source of the leak and lead to implementation of wide-ranging changes to the way information was managed, stored and shared.
Dominic was also part of a team that investigated several leaks to the press on behalf of a Middle Eastern client. A key element of this investigation was to identify weaknesses in corporate governance and data security and provide recommendations to mitigate these vulnerabilities.
Dominic assisted in the investigation of several leaks of information that had led to the resignation of the CEO of a large retail company. The investigation was a complex one, requiring extensive analysis of electronic data and testimony given by those employees interviewed by Kroll. The findings generated by this analysis resulted in the resignation of a senior board member.
Dominic received a 1st Class MA Honours from the University of Edinburgh.
---
Forensic Investigations and Intelligence
Forensic Investigations and Intelligence
Kroll's forensic investigations and intelligence team delivers actionable data and insights to help clients across the world make critical decisions and mitigate risk.
Reputational Risk
Reputational Risk
Kroll is a leader in helping companies identify and mitigate the risks that can be fostered by inappropriate behavior and hidden weaknesses in the organizational culture.
Return to top