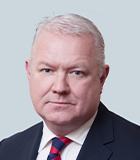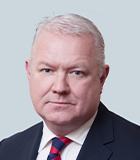 Declan Redmond
Managing Director, Growth Team
Declan Redmond is a managing director in the Growth Team, based in London. Declan has over 40 years of experience in establishing legal practices for individuals within an organization and identifying and selecting experts to support clients' needs.
Prior to joining Kroll, Declan served as CEO/Director of Clerking at Keating Chambers. He has also held several roles at Wilberforce Chambers, starting his career as a Barristers' Clerk and advancing to CEO/Director of Clerking. As CEO/Director of Clerking at Keating Chambers, Declan oversaw all work operations, including the clerking, marketing and administration teams, and developed strategies for individual barristers, as well as the overall chambers. Through his work at Keating Chambers and Wilberforce Chambers, he oversaw a long period of growth in terms of their sizes and levels of income and saw both Wilberforce and Keating receive numerous awards such as The Lawyer's Chambers of the Year.
Declan has extensive business development experience both domestically and internationally and has managed a wide range of client relationships. He has a wealth of knowledge of clients' needs in a number of jurisdictions such as Dubai, Qatar, Abu Dhabi, Oman, Hong Kong, Singapore, Grand Cayman, Bahamas, Bermuda, Jersey, Guernsey, Gibraltar, the British Virgin Islands, the Republic of Ireland, South Africa, Australia and South Korea. He also has extensive knowledge of the domestic markets and regularly visits clients in Manchester, Bristol, Leeds, Birmingham and other regions.
Declan has been recognized as one of the most influential people in the legal industry. In 2011, he was honored by inclusion into The Lawyer Hot 100, and in 2014 he received the Chambers & Partners Lifetime Achievement award. The legal directories (both Legal 500 and Chambers & Partners) have described Declan as "an icon of the Clerking World," "dynamic, responsive, and very approachable", "unrivalled in developing long-term relationships with clients" and "a doyen of the clerking world."
Declan was elected to be Vice Chairman of The Institute of Barristers' Clerks from 2002–2005 and Chairman from 2005–2008. He has sat on numerous bar council committees, including the International Development Committee, Equality and Diversity and Bar Direct.
---
Forensic Investigations and Intelligence
Forensic Investigations and Intelligence
Kroll's forensic investigations and intelligence team delivers actionable data and insights to help clients across the world make critical decisions and mitigate risk.
Investigations and Disputes
Investigations and Disputes
World-wide expert services and tech-enabled advisory through all stages of diligence, forensic investigation, litigation, disputes and testimony.
Return to top