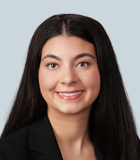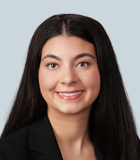 Courtney Ciepiela
Director
Courtney Ciepiela is a director in the Valuation Advisory Services practice, based in Atlanta.
Courtney leverages more than seven years of experience in valuation and financial advisory service. She has served various clients, including private companies, early-stage companies and S&P 500 public companies, across the consumer products and industrial products industries.
Courtney has extensive experience in performing valuations of businesses and assets for financial reporting as well as tax reporting. She has performed valuations for purchase price allocation (ASC Topic 805), impairment testing (ASC Topic 350), stock-based compensation (409A and ASC Topic 718), estate and gift tax, and litigation support purposes. Courtney has valued a wide variety of intangible assets and intellectual property, including proprietary technology, customer relationships, trade names, franchise rights, non-compete agreements and assembled workforce.
Courtney holds a BBA in finance and a Certificate in Legal Studies from The University of Georgia.
---
Valuation Advisory Services
Valuation Advisory Services
Our valuation experts provide valuation services for financial reporting, tax, investment and risk management purposes.
Return to top