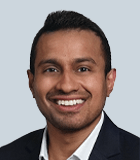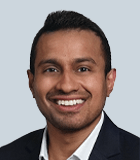 Calvin D'souza
Managing Director
Calvin D'souza is a managing director with the Forensic Investigations and Intelligence practice of Kroll, based in the Toronto office. Calvin has participated in a variety of complex investigations, including pre-transactional due diligences, proxy shareholder contests, internal investigations, competitive intelligence and litigation support matters for law firms, corporations and government agencies.
Prior to joining the team in Toronto, Calvin worked in a number of Kroll's offices around the world, including Hong Kong, Miami, Mumbai and Singapore.
Professional Experience
Due Diligence
Calvin has worked on a number of multijurisdictional pre-transactional due diligence investigations in relation to transactions, joint ventures and executive hires in a number of sectors, enabling clients to minimize their risks and make informed business decisions before entering new business relationships.
Litigation Support
Calvin has conducted intelligence-gathering for litigation support matters in the context of disputes between parties. These include the interviewing of individuals in a mining company in Australia and the gathering of intelligence on a Canadian businessman involved in a lawsuit against a former partner as well as investigations into the finances of a former mining executive.
Asset Searches
Calvin has led a number of international asset identification matters, including the misappropriation of assets by current employees of an international conglomerate as well as other multijurisdictional asset trace matters.
Proxy Shareholder Contests
Calvin has led complex intelligence-gathering in a number of proxy shareholder disputes in Canada, helping clients defend themselves from takeovers by activist shareholders or short-sellers.
Internal Investigations
On behalf of an Italian textile firm, Calvin performed an investigation into the source of vendor fraud and kickbacks in its Indian subsidiary. He led key aspects of the internal investigation, including interviewing staff and vendors.
Education and Certifications
M.S., Comparative Politics, London School of Economics and Political Science
B.A., International Relations, Richmond, The American International University in London
Private Investigator, Licensed by the Ministry of Community Safety and Correctional Services of Ontario
Certified Fraud Examiner
Languages
French – Working proficiency
Spanish – Conversational
---
Forensic Investigations and Intelligence
Forensic Investigations and Intelligence
Kroll's forensic investigations and intelligence team delivers actionable data and insights to help clients across the world make critical decisions and mitigate risk.
Return to top