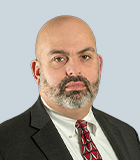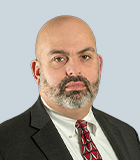 Benedetto Demonte
Chief Operating Officer, Cyber Risk
Benedetto Demonte is COO of Kroll's Cyber Risk Practice, based in the New York office. He joined Kroll in November 2012, after a distinguished career as a Senior Forensic Examiner with the Federal Bureau of Investigation (FBI). Ben has led a variety of complex cyber investigations including technical analysis for national security, network intrusions, insider attacks, malware infections, Internet fraud, child sexual exploitation and theft of intellectual property.
Prior to this, Ben was Assistant Director of the FBI's Regional Forensic Laboratory in the state of New Jersey. There he managed a staff of over twenty-five examiners, training them on the latest techniques of evidence retrieval and data analysis. Ben received his appointment with the FBI in 1991 and has held numerous assignments throughout the Bureau.

Ben has provided expert testimony in cases involving computer forensics.
Professional Experience
Delivers integrated functions to organizations encompassing information security, cyber investigations, computer forensics, business continuity, disaster recovery, incident response, IT audit, records management, penetration testing, and vulnerability assessments.

Investigates client issues relating to large-scale information security reviews, data breach incident response, investigations of computer security events, Internet fraud, identity theft and theft of intellectual property, as well as privacy and information technology related matters.
Performed examination on the most complex investigations submitted to the New Jersey Regional Computer Forensic Laboratory.
Formulated private and public sector information security strategies and remediation.
Education & Certifications
M.S., Holy Family University

B.S., University of Maryland, University College

Certified Information Systems Security Professional (CISSP), 2012

ACE Certification, AccessData, 2012

Certified Incident Handler (SANS), Global Information Assurance Certification, 2010

Certified Radiological Worker 2, Department of Energy, 2011-2012

FBI PDA Certified Examiner, 2006-2012

FBI Cell Phone Certified Examiner, 2005-2012

FBI UNIX Certified Examiner, 2000-2012

FBI Certified CART Examiner, 1999-2012
---
Cyber Risk
Cyber Risk
Incident response, digital forensics, breach notification, managed detection services, penetration testing, cyber assessments and advisory.
Return to top