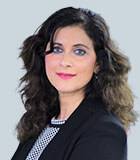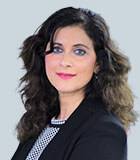 Anju S. Chopra
Chief Innovation Officer, Cyber Risk
Anju Chopra is Chief Innovation Officer for the Cyber Risk practice, based in Nashville. In a career spanning more than 20 years, Anju has continually delivered innovative, often ground-breaking solutions to complex business problems using advanced technology systems, cyber security, artificial intelligence and enterprise architecture. As Chief Innovation Officer for Cyber Risk, Anju leads the conceptualization, development and implementation of all business-critical technology products and platforms for the global Cyber Risk practice.
Prior to joining Kroll, Anju served as chief technology officers and executive vice president of technology for a venture-funded startup, where she led all aspects of the technology and product organization, including innovation, development, security and compliance. Earlier in her career, Anju held senior management positions with Tendril Consulting, where she provided management and technology consulting services to early-stage start-up companies and to the healthcare sector; Management Science Associates, where her expertise in advanced data analytics and technology resulted in significant operational efficiencies and new product offerings; and OnlineChoice.com, where she focused on product marketing and strategy.
Anju holds several patents related to dark web technologies as well as search efficiencies for identifying whether private information has been exposed, with a focus on detecting exposure and threats that emanate from the deep and dark web. These include: System for Forensic Analysis of Search Terms (U.S. Patent 9135306), Snippet Matching in File Sharing Networks (U.S. Patent 9088545) and System and method for monitoring BitTorrent content (U.S. Patent 9432273). These innovations assist security professionals and law enforcement officials in staying one step ahead of cyber criminals and protecting individuals whose lives would be impacted by sensitive information exposure on the dark web.
Anju's experience extends across a broad range of enterprises in the public, private, government and law enforcement sectors. She is well-versed in a variety of regulatory regimes, including GDPR, PCI and HIPAA, and has developed and implemented software products for the Department of Defense, FBI and other government agencies. She is especially adept at communicating technical matters in a comprehensible way to management, boards of directors and investors.
Anju's expertise has been featured in Corporate Compliance Insights, and she frequently writes on topics such as dark web monitoring and artificial intelligence. She also participates in speaking engagements and teaching opportunities, and serves as adjunct faculty at Chatham University, where she teaches "Information and Cybersecurity." She has also been recognized as a finalist for Pittsburgh CIO of the Year in 2015 and 2016.
---
Cyber Risk
Cyber Risk
Incident response, digital forensics, breach notification, managed detection services, penetration testing, cyber assessments and advisory.
Identity Theft Restoration
Identity Theft Restoration
Kroll provides your breach population with direct access to investigative experts for live support and best practice advice, as well as identity restoration should they become victims of identity theft.
Return to top