Businesses Report All-Time High Levels of Data Breach Incidents
Our Cyber Risk practice has released their updated Data Breach Outlook for 2021, which shows data attacks have increased and become widespread across industries since the pandemic. A comparison of reported data breach notification cases shows a 140% growth from 2019 to 2020.
Historically, industries that were less affected or less prepared during COVID-19 saw some of the largest data breaches year-over-year. Among the industries that had the lowest number of number of data breach notifications in 2019 are food and beverage, and construction, which had the largest increases in 2020 at 1,300% and 800% respectively.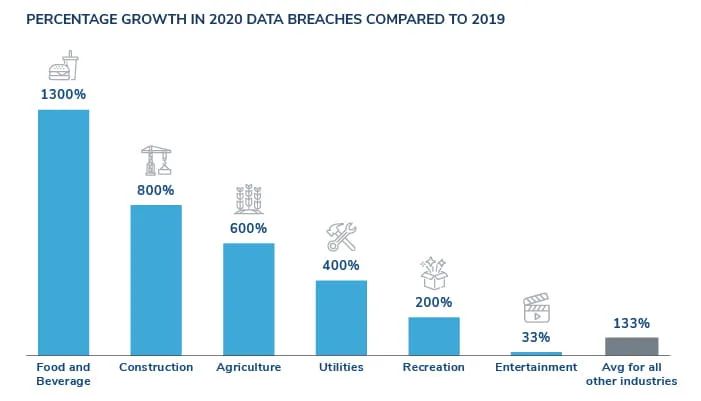 The education, financial and healthcare industries traditionally impacted by data breaches continued to be hard hit in 2020. In 2020, the data showed an average 125% growth in breach notification cases for industries which experienced five or more breaches in 2019. It continues to see a surge in the same, more traditional, and regulated group of industries in 2021.
Irrespective of industry, we attribute the following drivers to the record high reporting of data breaches.
The shift to remote working, which has left employees and employers more vulnerable to cybercrime
The evolution of ransomware into data extortion schemes
The rising impact of supply chain attacks
The combination of stricter privacy regulations with increased awareness of privacy rights
Read the Full Report
There are actions companies can take to mitigate the risk of data breaches and prepare for a notifiable data breach incident that might occur. These insights and more are offered in the full 2021 Data Breach Outlook Report.
---
Valuation Advisory Services
Valuation Advisory Services
Our valuation experts provide valuation services for financial reporting, tax, investment and risk management purposes.
Return to top