Duff & Phelps launches the IPL Brand Valuation Report 2018
Duff & Phelps, the global advisor that protects, restores and maximizes value for clients, today announced findings from its IPL Brand Valuation Report – 2018, a concise report on brand values in the Indian Premier League (IPL).
The findings of the fifth edition of Duff & Phelps' annual study of the IPL suggest an increase in the overall value of the IPL ecosystem from US$ 5.3 billion in 2017 to US$ 6.3 billion in 2018, supported by the broadcasting rights fee surging at a compounded annual growth rate (CAGR) of 18.9%.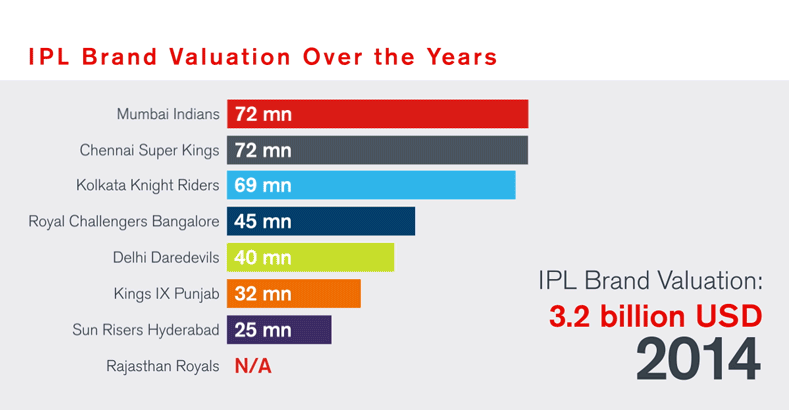 The Mumbai Indians, with a brand value of US$ 113.0 million, continue to top the charts for the third season in a row. Kolkata Knight Riders are in second place with a brand value of US$ 104.0 million. The two-year ban imposed on Chennai Super Kings (CSK) and Rajasthan Royals has had some bearing on their brand values. However, CSK's on-field performance and the Dhoni factor helped them to neutralize the negative impact, as they were valued at US$ 98.0 million alongside Royal Challengers Bangalore. Sunrisers Hyderabad, Delhi Daredevils, Kings XI Punjab and Rajasthan Royals follow in the brand rankings.
"Star India's broadcasting rights deal was a game changer that put IPL on par with some of the biggest sporting leagues in the world (on a fee per match basis)," commented Varun Gupta, Managing Director, Duff & Phelps and Asia Pacific Leader for Valuation Services. "The change in content consumption, influx of over-the-top (OTT) and digital viewing platforms and increased support from advertisers, broadcasters and sponsors have given the IPL greater significance in terms of brand value."
Star India Private Limited (SIPL), the new broadcasting partner for the IPL, has given a boost to the broadcast rights fees which increased by a CAGR of 18.9%. Under Star, content delivery expanded to various regional channels across the SIPL universe with commentary in eight different languages, rather than limiting the transmission to sports channels with just English commentary.
Santosh. N, Managing Director, Duff & Phelps said, "Our IPL brand values report reflects the evolution of the modern cricket business paradigm with clubs benefiting from not only the enduring popularity of cricket in India but also from strong marketing and globalization of the game. However, for growth trajectories to maintain their momentum, all teams need to continue broadening their footprint, forming relationships and generating revenue opportunities in growth markets. Ultimately, however, much of cricket's future depends on ensuring the product is of a sufficiently high quality to continue attracting viewers, sponsors and broadcasters, the latter of which have become a vital component for the game's financial health."
This season also witnessed the importance of OTT sports viewership which has become an established and fast-growing market. Hotstar set a world record of OTT viewership with 10.7 million concurrent viewers, beating the 2012 world record of over 8 million concurrent viewers held by YouTube for Felix Baumgartner's space jump. This surge in online streaming of IPL and the increasing momentum of OTT as a medium to watch sports online was also one of the key reasons for companies to show willingness to acquire digital rights for streaming IPL.
Finally, social media continues to be an important driver of brand value. The first week of the previous season of IPL garnered 642,900 mentions on social media platforms. That has gone up to 855,400 in the first week of the 2018 season and to 1.3 million after two weeks.
Duff & Phelps launches the IPL Brand Valuation Report 2018
/en/insights/publications/valuation/ipl-brand-valuation-report-2018
/-/media/assets/images/publications/valuation-advisory/ipl-brand-valuation-report-2018.jpg
2018-08-09T04:00:00.0000000
publication
{796A58E9-D284-46A9-96EC-56B0D27685A6}
{6B18A490-2227-426A-A1D0-3836822E90EB}