Are Football Stadium Naming Rights Undervalued? A European Analysis
Despite the Premier League's status as football's most popular league, many of football's powerhouses are outside the United Kingdom, such as Barcelona, Bayern Munich, Juventus, PSG and Real Madrid. This analysis examined the potential value of stadium naming rights across Europe.
Download the Report
Six of the Champions League teams included in our study have stadium naming rights deals in place. Both Bayern and Juventus are signed with Allianz. Out of the 98 teams in Europe's top five leagues (the Premier League, La Liga, Bundesliga, Serie A and Ligue 1), only 27% have stadium naming rights deals. With 73% of clubs not utilizing their income streams to their full potential, significant revenue can be generated by securing a stadium sponsor.
Football is undoubtably the world's most popular sport, with broadcasting rights in 212 territories across the world and over five billion people tuning into a live football match at least once per season. The 2018 World Cup Final had 1.12 billion viewers, the most ever recorded, compared to only 100.7 million for the 2019 Super Bowl. Considering football's global reach, it appears that the world's largest brands seem to underinvest in stadium naming rights compared to other sports in the U.S. For example, the National Football League (NFL) has more than 80% of their stadiums sponsored.
The football stadium naming rights market is most mature in Germany with over 80% of Bundesliga stadiums sponsored. England's Premier League, which holds second place, has only 30% of stadiums sponsored. Italy's Serie A and France's Ligue 1 both have 10% of stadiums sponsored whilst Spain's La Liga only has 5%.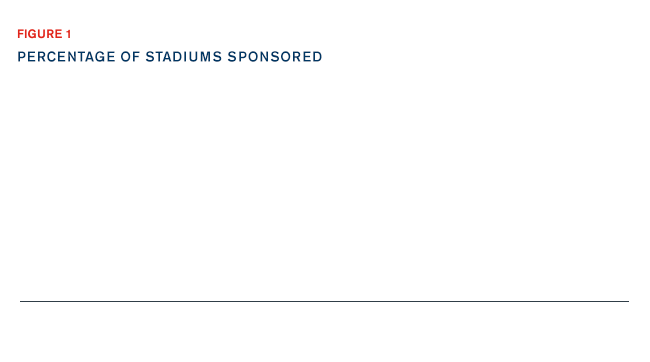 In Spain, Italy and France it is a tradition to name stadiums after former presidents or club affiliates. For example, Real Madrid's 'Santiago Bernabeu' is named after the former club president, who is considered one of the most important individuals in Real Madrid's history.
From 2009 to 2018, Spanish clubs won seven Champions League titles and six Europa League titles. Recently, however, the Champions League and Europa League have been dominated by English teams. Both 2019 finals were all English affairs with Liverpool beating Tottenham and Chelsea beating Arsenal. Clubs must maximize their revenues to be able to afford the best players. One strategy to accomplish this would be to sell their stadium naming rights. Against this backdrop, Kroll has estimated the naming rights values for the 'Last 16' of the 2018/2019 Champions League below.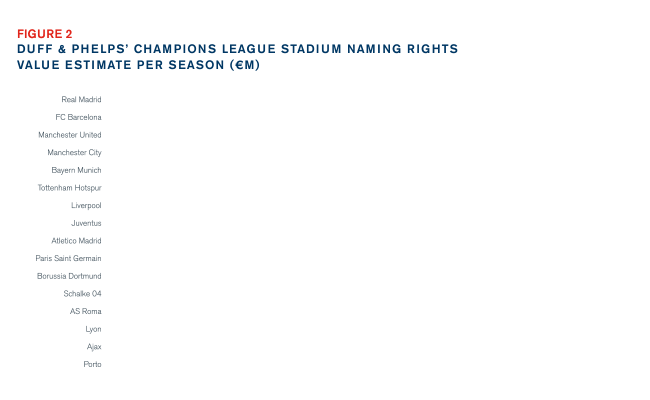 Atletico Madrid, Bayern Munich, Borussia Dortmund, Juventus, Schalke 04 and Manchester City are the only teams included in the Kroll Champions League study that have stadium naming rights deals in place.
Barcelona and Real Madrid are tied at the top of Kroll's study with the value of their stadium naming rights estimated at €36.50 million per season. Whilst Barcelona's international performance has not been as strong in recent years, they do have Lionel Messi on their book, who is the second most followed footballer on Instagram with 133 million followers, behind Cristiano Ronaldo who has 186 million followers. Messi's global reach increases Barcelona's global popularity and brand value because a brand would likely pay a premium to be associated with Barcelona.
Real Madrid and Barcelona also offer interesting future naming rights prospects with both teams in the process of significantly upgrading their current stadiums. Real Madrid is planning to wrap the Santiago Bernabeu in a titanium LED skin and is installing a retractable roof, pedestrian zone and expanding the existing shopping center, club shop and club museum. Barcelona investigated the prospect of building a new stadium nearby but opted to renovate the current Camp Nou. The proposed renovations will redesign the exterior, refurbish the interior, increase capacity from 99,000 to 105,000 and install new handball, futsal and hockey facilities. The upgrades are estimated to cost €550 million and €650 million for Real Madrid and Barcelona, respectively, with Barcelona planning to fund a significant portion of the development cost through a stadium naming rights sponsorship.
Real Madrid and Barcelona are not the only teams investing in their stadiums. Tottenham recently moved to a new state of the art 62,000 seater stadium while other Premier League teams, including Chelsea and Everton, are planning to develop new stadiums that will likely attract sponsorship interest from companies that want to be associated with large clubs. Looking at the figures from Kroll's studies, Premier League teams account for six of the European top ten with Manchester United third behind Real Madrid and Barcelona with an estimate of €30.50 million while Manchester City are fourth with an estimate of €24.95 million. Bayern Munich is in the fifth position, closely followed by Tottenham, Liverpool, Chelsea and Arsenal. (see Figure 03).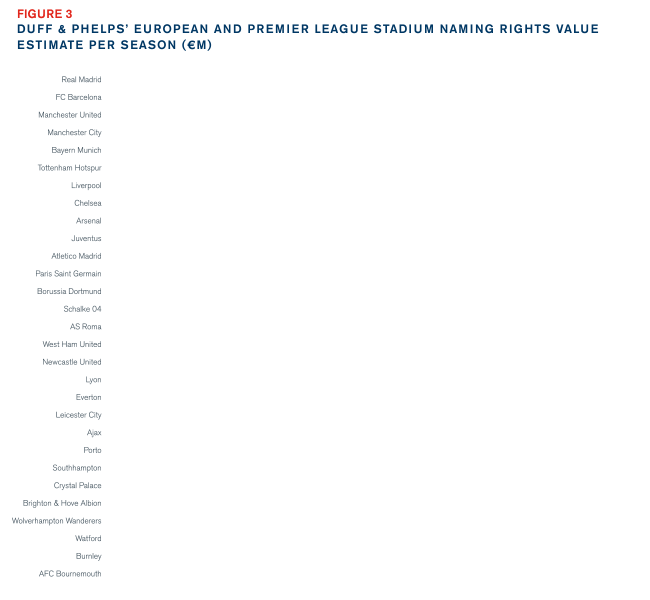 To understand which businesses would likely be interested in European stadium sponsorship, Kroll analyzed the sponsors of both the NFL, with over 80% of stadiums sponsored, and Germany's Bundesliga, Europe's most developed football stadium naming rights market.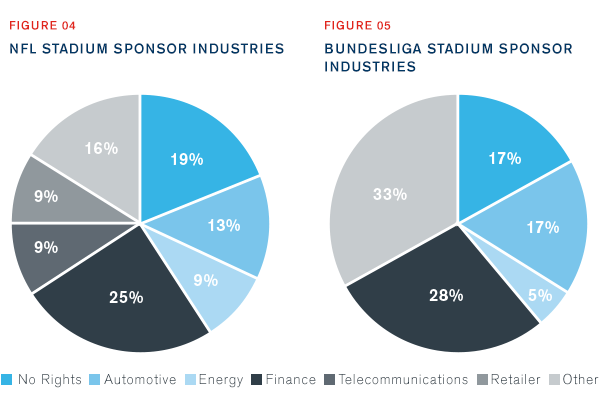 The Bundesliga sponsors show a more concentrated pool of industries compared to the NFL which has telecommunications and retail sponsors. The largest single sponsor of each league comes from the finance industry which sponsors c. 25% of named stadiums in both leagues. A key reason for this is that, in most cases, financial institutions are also buying in to become the team's financial partner. They use this partnership to sell other services to the club such as forecasting, player and stadium financing and selling credit and debit cards to supporters.
Allianz, the German insurance company, has benefited from stadium sponsorship and currently owns naming rights for seven sports stadiums including Bayern Munich (signed in 2002) and Juventus (signed in 2017). Each deal has been positive for Allianz with the initial 20-year Bayern deal shielding them from naming rights inflation and the Juventus deal granting extra exposure when the team acquired Cristiano Ronaldo with his significant Instagram following. Kroll estimates that Juventus' current naming rights are worth €18 million per season, highlighting the added value of having a global superstar playing for one of their teams.
European clubs could also look to retailers for sponsorship opportunities. For example, the NFL's San Francisco 49ers and Buffalo Bills have Levi's and New Era as their stadium sponsors, respectively. Most of the value for a retailer comes through a relationship with the players. The influencer marketing industry is expected to reach c. €8.6 billion in 2020 with 67% of marketers planning to increase their influencer budgets over the next twelve months. Brands could save significant amounts if they can negotiate access to the clubs' and players' social media platforms, which are some of the most followed in the world. Not only would a brand have direct access to millions of potential consumers but also exposure to jurisdictions that may have previously been hard to access. For example, Sergio Ramos has 35 million Instagram followers with a European concentration, while Neymar's 127 million followers offer brand exposure outside of Europe. European clubs may also prefer a retail sponsor to a corporate or banking one given the implications of changing the name of a historic stadium to a brand that supporters are not familiar with.
In summary, there is significant untapped potential for European teams without stadium naming rights sponsorship, with the most valuable and long-term deals reserved for those with the highest levels of global exposure, Champions League participation and low relegation risk. All European teams are increasingly benefiting from being televised around the world on a regular basis, meaning even the sponsors of smaller teams get global exposure to new and existing customers.
Download the Report