Evolution of Celebrity Endorsements in India
Celebrity endorsement has been a key aspect of Indian marketing evidenced by the fact that close to 50% of endorsements in India feature celebrities as compared to around 20% in the U.S. With the increased penetration of digital cable television and growing adoption of social media as a marketing tool, the decade beginning 2010 has seen a significant evolution in the Indian endorsement space.
As per industry sources, over the past decade, the number of celebrity-led endorsements have increased from 650 ads in 2007 to 1660 ads in 2017, representing a steady compounded annual growth rate (CAGR) of 10%. Film stars currently dominate the endorsement industry with 76% share of the endorsement market, followed by sportspersons with 12%. Personal care/ hygiene and the food and beverages industry contributed the largest chunk (33%) of celebrity-led campaigns. While the personal care, jewelry and banking segments are dominated by female endorsers, the e-commerce, auto, real estate and smartphones segments primarily feature male endorsers. As per Kroll' 2018 Celebrity Brand Valuation Report, the celebrity brand value of the top 15 endorsers in India has grown by ~13% from $691 million in 2017 to $782.2 million in 2018, which highlights the increased confidence placed by product brands in celebrity endorsers.
Celebrity Brand Valuation Index

The celebrity endorsement market is now evolving from plain vanilla endorsement deals to full-fledged partnerships through innovative structures such as equity deals, royalty arrangements, joint ventures and strategic merchandising partnerships. Traditionally, endorsement contracts have generally been structured in two ways. The first includes a fixed fee and a fixed term engagement, while the second includes a one-time engagement. The former model involves celebrities being contracted for a specified term (usually one or two years) for a fixed sum of payment split across the pre- and post- endorsement cycle. Celebrities are called "brand ambassadors" under such engagements. The latter, a less popular form of engagement, involves a one-time appearance by a celebrity for a specified event or campaign. This may be in the form of a single advertisement or a photoshoot or even an event attendance. Flipkart used this form of engagement with its star-studded lineup to promote its annual Big Billion Day sale last October. It employed the single largest ensemble of endorsers for any single brand in any one campaign with Virat Kohli, Deepika Padukone, Amitabh Bachchan, MS Dhoni, Sunil Chettri, Saurav Ganguly, Saina Nehwal and Diljit Dosanjh batting for the brand.
Celebrity Brand Value - Male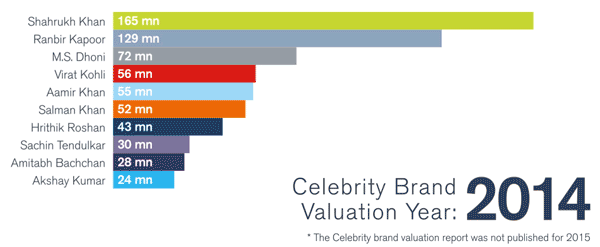 Celebrity Brand Value - Female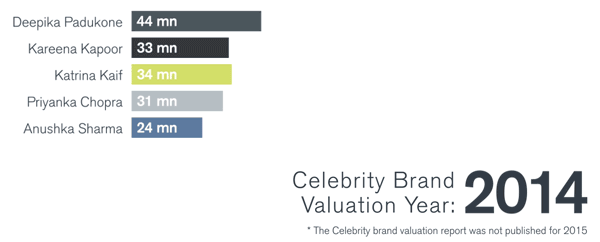 The prestige of the product dictates the deal value and often there's an inverse relationship between size/appeal of the product brand and the endorsement fee charged. Brands with a negative perception are often faced with resistance and charged high fees by celebrities. On the other hand, when celebrities perceive brands to be more appealing, they're willing to negotiate their endorsement fees in exchange for the intangible value of being associated with that brand.Deal structures have kept on evolving as per the needs of the endorsers, the endorsees and the technological environment.
Celebrity Brand Value - Sports stars


Several celebrities have also embraced the co-ownership endorsement model by taking an equity stake in the product brand/company, often a well-known or upcoming startup. For instance, Sachin Tendulkar owns equity of close to 3% in Smaaash Entertainment and is the co-ambassador of the brand along with Virat Kohli. Bengaluru-based health startup, Chisel, looped in Virat Kohli for a similar arrangement. He owns close to 30% equity in the company whose other shareholders are Chisel Fitness and CSE, the sister company of Cornerstone Sport & Entertainment (which manages Kohli). Another form of arrangement is a royalty agreement where the celebrity leases a brand to another company, which is engaged in manufacturing and distribution. For instance, the "Being Human" clothing brand, owned by the Being Human Foundation, was launched in 2012 in partnership with Mandhana Industries Limited. Mandhana, which is now a listed company, pays a 5.75% royalty to the Being Human Foundation. Salman Khan acts as the brand ambassador for Being Human as well. Hrithik Roshan has chosen a similar structure for licensing his merchandise brand "HRX," which is majority owned by Myntra, a subsidiary of Flipkart. Such deals result in more skin in the game for the celebrity and the possibility of long-term upside if the brand does well. For product brands/companies, such structures have the advantage of low up-front cash investment.
Similarly, we have seen an emerging trend of several celebrities launching their own merchandise brands in partnership with companies. One of the leading examples is Universal Sportsbiz Pvt. Ltd. (USPL), which mushroomed into one of the most modish parent brands for multiple celebrity-owned fashion labels.USPL, founded in 2012, is backed by cricketing legend Sachin Tendulkar and recently raised INR 1,000 million funding from Accel Partners. It has "Wrogn" by Virat Kohli, "Imara" by Jacqueline Fernandez and "Ms Taken" by Kriti Sanon under its umbrella and aims to open up to 200 outlets across the country in the next three years. USPL has seen its revenues rise from INR 105 million in 2017 to INR 150 million in 2018.
Virat Kohli has been a real pioneer in the merchandising space. He has come out with multiple brand extensions of his own versatile brand called "One8." The One8 portfolio has launched athletic wear, formal shoes and an energy drink along with various partner brands. One8xPuma is a collaboration with sports lifestyle brand Puma which provides design, product, retail and communication channels for the brand to prosper. Virat also endorses Puma and hence this partnership is one of a kind. One 8 Select was launched in collaboration with Aeon Sports India Pvt. Ltd., which provides a range of men's formal footwear. He also forayed into the packaged energy drinks segment with his brand One8 by associating with Ocean Beverages.
Brands are also increasingly going regional in their endorsement strategy to cater to the heterogenous peculiarities of Indian states. They are leveraging the equity that local celebrities enjoy. Product brands are also looking for better returns on their investment through a step up on regional markets and have started coming up with region-specific commercials featuring regional celebrities like Mahesh Babu and Tamannaah. Coca-Cola entered into an endorsement agreement with Punjabi heartthrob Diljit Dosanjh for its flagship brand to establish deep-rooted connections within the northern region of the country. Similarly, Frooti unveiled its two separate endorsement campaigns, one featuring Alia Bhatt for its national campaign and other featuring Allu Arjun for South India to create more bespoke associations for their product in each region.
Celebrity Brand Value - Millennials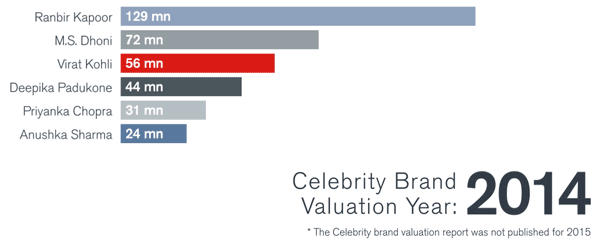 While an individual celebrity has his/her own loyal fan base, celebrity couples often command a much more diverse and wider following. At present, 80% of married Indians are between the ages of 23-34. Celebrity couples attract eyeballs in the advertising space as combining two people inevitably expands the brands' horizons in terms of reach and diversity. The celebrities are famous for their individualistic traits and as well as what they signify collectively. Nawab of Pataudi Saif Ali Khan and Bollywood diva Kareena Kapoor Khan are the quintessential power couple. They were roped in by Airbnb for its "Live There" campaign as marketers felt they aptly portray seasoned travelers who are seeking alternative ways to enhance their holiday experience. Power couple Virat Kohli and Anushka Sharma have endorsed up to 40 brands in total such as Head & Shoulders, Manyavar, Pepsi, Audi, Polaroid, etc. Virat has a bold aura whereas Anushka has a mesmerizing stage presence. Both cater to different industries but when viewed collectively, they bring a whole new meaning to the brand they endorse. Going forward, we anticipate the trend of power couples being used for brand endorsement becoming stronger.
Given how mainstream digital media has evolved, one can anticipate that brands may also choose between using a single ambassador across all channels or have multiple faces for a campaign across different mediums. Further, endorsement deal structures are expected to continue evolving. While not all celebrities may have successful merchandising brands, some are expected to do well and scale the heights reached by legendary merchandising brands such as "Air Jordon." Finally, with a growing married millennial population in India, power couples are expected to create a strong niche in the Indian endorsement space.
Evolution of Celebrity Endorsements in India
/en/insights/publications/valuation/celebrity-endorsements-india
/-/media/assets/images/publications/valuation-advisory/evolution-celebrity-endorsements.jpg
2019-07-24T04:00:00.0000000
publication
{796A58E9-D284-46A9-96EC-56B0D27685A6}
{9763680C-5D58-4FFD-A93E-9C2B56959D4F}
{746781D2-7596-4EA3-BB0D-61CC7AC16C05}
{6B18A490-2227-426A-A1D0-3836822E90EB}