2020 European Goodwill Impairment Study
In 2013, Kroll launched its inaugural study examining general goodwill impairment trends across countries and industries within the European market.
The 2020 European Goodwill Impairment Study (2020 Study) captures similar trends by companies in the STOXX® Europe 600 Index but focuses on calendar years 2015–2019. The STOXX® Europe 600 Index comprises large, mid and small capitalization companies across just under 20 European countries.
The 2020 Study also continues to show impairment trends and statistics for benchmark stock market indices across five countries:
France (CAC 40)
Germany (DAX)
Italy (FTSE MIB)
Spain (IBEX 35)
United Kingdom (UK) (FTSE 100)
Highlights of the Study
Total goodwill impairment recorded by European listed companies in the STOXX® Europe 600 increased for a second consecutive year. Goodwill impairment rose 18% to €36.4 billion (bn) in 2019, as fears of slowdown in global growth persisted.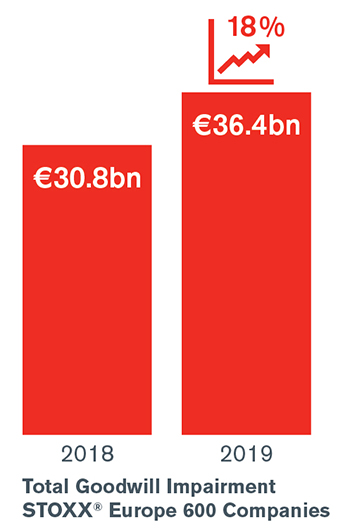 The number of goodwill impairment events increased by 7% for a second consecutive year, from 118 in 2018 to 126 in 2019. At the same time, the average impairment amount per event increased by 11%, from €261 million (mn) to €289 mn over the same period.
2019 saw the highest level in aggregate goodwill impairment for the STOXX® Europe 600 since 2015. The amount of goodwill impairment and number of impairment events for the last five years is summarized below.
In 2019, the top 10 goodwill impairments accounted for more than two-thirds of the aggregate goodwill impairment of €36.4 bn.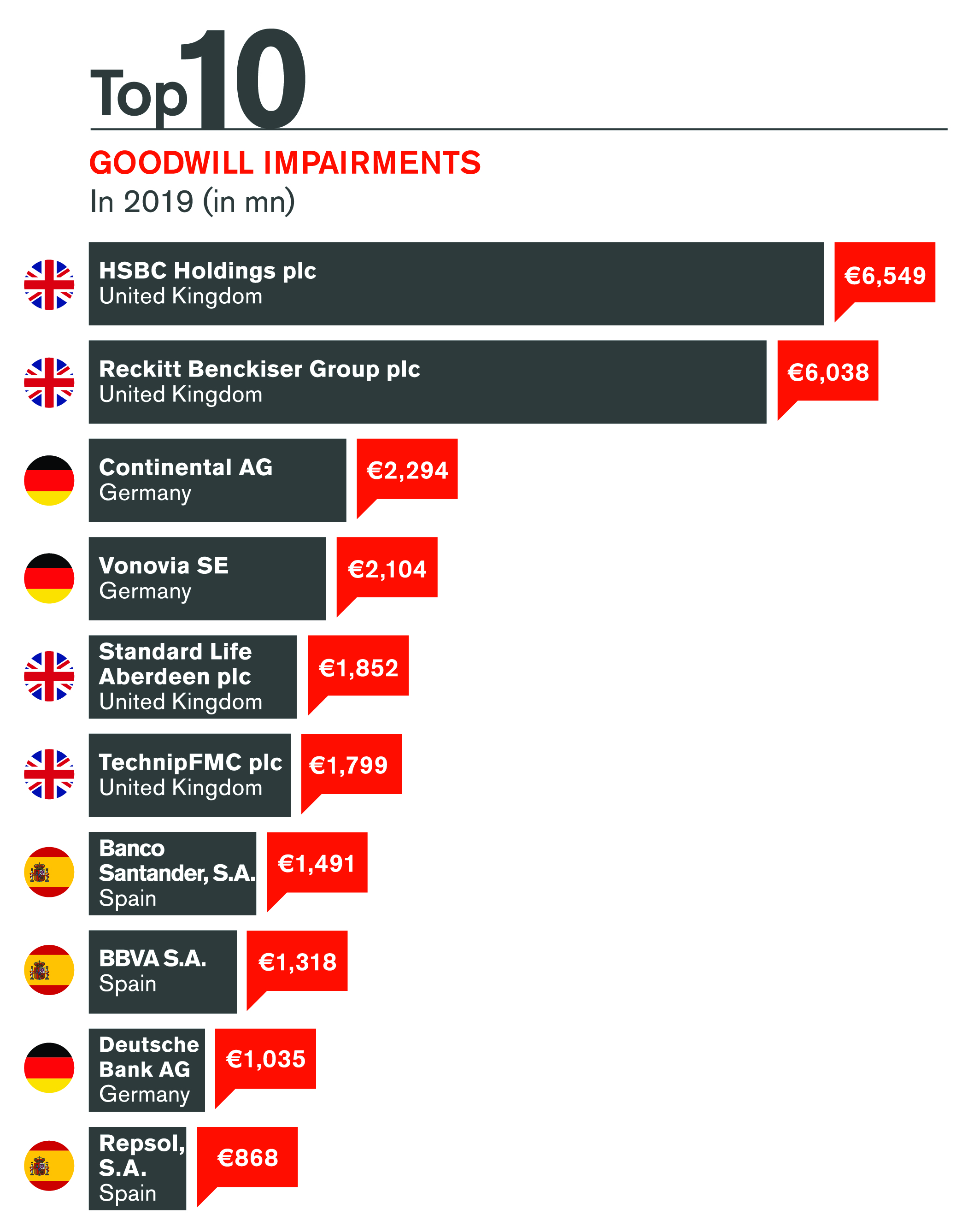 Key Country Highlights from the 2020 Study
At €19.3 bn, the UK was the country within the STOXX® Europe 600 with the highest aggregate amount of goodwill impairment in 2019. This represented an almost threefold increase from the 2018 level (€7.1 bn) and the worst level for the UK since 2012. Brexit uncertainty continued to weigh on UK companies, impacting especially the Financials & Real Estate industry.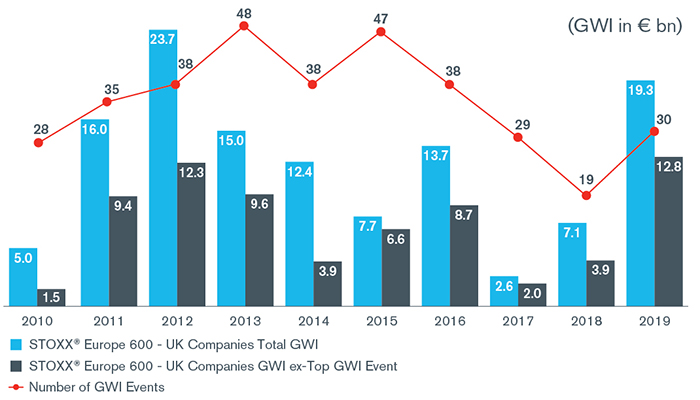 At €5.9 bn, Germany saw the second highest goodwill impairment amount (a 30% climb), as the country's economic growth nearly came a halt in 2019.
France saw its aggregate goodwill impairment drop by over 70% in 2019 to €2.5 bn. The decline is largely due to the absence of any single large impairment event in 2019, in contrast to 2018, when the largest overall single impairment event was registered by a French company.
Aggregate goodwill impairment rose by just under 80% in Spain, with Financials being particularly affected by the continued negative interest rate environment in the Eurozone and Brexit uncertainty.
Key Industry Highlights from the 2020 Study
Six of the ten industries analyzed saw their aggregate goodwill impairment amounts increase.
The top three industries with the most significant increase in goodwill impairment amounts in 2019 are as follows, in order of magnitude (€ bn):

Financials & Real Estate (€9.6 to €17.2)
Consumer Staples (€1.2 to €7.5)
Energy (€1.5 to €3.2)

Companies in Financials were particularly affected by a slowing global economy and the continued ultra-low interest rate environment. Certain European financial institutions were also negatively impacted by the continued Brexit uncertainty.
Consumer Staples and Energy have both registered their highest goodwill impairment levels since we started collecting data in 2010.
Only three out of 10 industries saw an increase in the proportion of companies carrying goodwill in 2019, consistent with the sharp drop observed in M&A activity in Europe. The Utilities industry had the largest gain:
Communication Services saw the largest decrease in number of companies with goodwill that recorded a goodwill impairment, closely followed by Healthcare. These were the only two industries that saw a decline in 2019.

Return to top