2018 U.S. Goodwill Impairment Study
Duff & Phelps is celebrating its 10-year anniversary edition with the launch of the 2018 U.S. Goodwill Impairment Study (the "2018 Study"). The 2018 Study examines general and industry goodwill impairment trends of 8,400+ U.S. publicly traded companies through December 2017.

Total goodwill impairment was $35.1 billion in 2017, increasing by 23% over the prior year. The graphic below shows the trend in the dollar amount of goodwill impairment and number of impairment events over the period 2013 – 2017.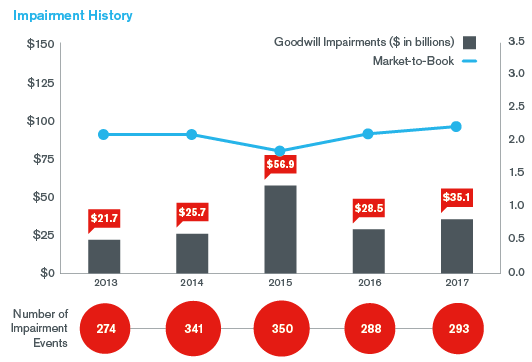 Over the past 10 years, the accounting model for goodwill under U.S. GAAP underwent several significant changes and simplifications. A qualitative test (aka., Step 0) was introduced in 2011, while in 2014, a private company alternative was created, allowing private entities to elect the amortization of goodwill on a straight-line basis over a certain number of years. Most recently, the model was further simplified through the issuance in January 2017 of Accounting Standards Update (ASU) No. 2017-04, Intangibles — Goodwill and Other (Topic 350): Simplifying the Test for Goodwill Impairment.

ASU 2017-04 eliminated Step 2 of the quantitative two-step test and allowed for early adoption for goodwill impairment tests performed after January 1, 2017. The 2018 Study captures goodwill impairments reported through the end of 2017, which already reflect the impact of early adoption by some U.S. publicly traded companies.

Key general highlights from the 2018 Study include:
Total goodwill impairment recorded ("GWI") by U.S. public companies climbed 23%, reaching $35.1 billion in 2017, while the average GWI per event rose by 21% to $120 million.
Nearly $319 billion of goodwill was added to U.S. companies' balance sheets during 2017, the highest level since 2008, reflecting a stellar year for M&A.
For 2018, aggregate GWI is on pace to bypass 2017, with current disclosures indicating that the top 3 GWI events this year alone will approach $30 billion.
Key industry highlights from the 2018 Study include:
Seven out of the ten industries analyzed saw their aggregate GWI amounts increase in 2017– with Energy and Information Technology serving as notable exceptions.
Consumer Discretionary was the hardest hit industry, as overall GWI increased by 71% in 2017 to $9.3 billion.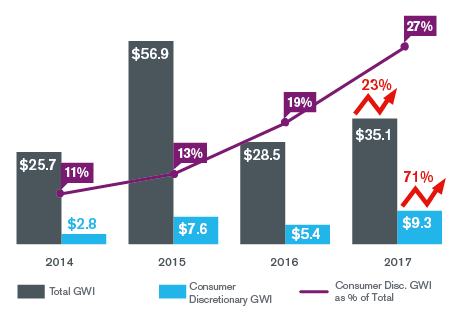 For two straight years, Energy recorded the largest decline in the number of companies with goodwill that recorded a GWI.

2018 U.S. Goodwill Impairment Study
/en/insights/publications/valuation/2018-us-goodwill-impairment-study
/-/media/assets/images/publications/thumbnails/valuation/us-goodwill-impairment-2018.jpg
2018-12-18T05:00:00.0000000
publication
{796A58E9-D284-46A9-96EC-56B0D27685A6}
{746781D2-7596-4EA3-BB0D-61CC7AC16C05}
{1A04249C-4024-4400-89D0-C60CB8EC39ED}
{B2556746-8BC1-425F-8842-83AEAC760EB3}