Navigating the Complexities of Purchasing a Distressed Business
"In the middle of difficulty lies opportunity."-Albert Einstein
There are few more challenging times for a management team than dealing with a distressed business and its stakeholders. If the business changes hands at the same time, it adds another level of complexity. A share sale can trigger, for example, changes in ownership clauses in contracts with suppliers and customers-which can usually be managed quite easily. However, when acquiring a business in a distressed scenario or out of an insolvency process, the purchaser is likely to find a whole host of urgent and business critical issues to manage and resolve.

The current Administration regime was brought in by the Enterprise Act in 2003 to encourage continuation of a business as a 'going concern' to maximize the potential to realize enterprise value for stakeholders, rather than asset value alone. This reduces the ripple effect of a failure across the supply chain and provides supplier continuity, employee job retention and fewer empty properties for landlords.

The most prevalent manifestation of Administration is via a pre-packaged sale, whereby terms are agreed upon and the sale contract is executed immediately following the Administrators appointment. This often provides a platform for the smooth transition of the business to a purchaser, as the Administrators themselves don't trade the business. Typically, the distressed state of the business along with abridged timescales for a purchaser to commit (sometimes days rather than the months a normal M&A process could take), gives little opportunity for full due diligence. As a consequence, a discount is usually applied by a purchaser to allow for unknown risks. Assuming risks can be managed, the first months of trading a newly acquired business can then result in super profits, as a price well below original cost value may have been paid for stock and/or WIP.
However, aside from the benefits of picking up a bargain, there are a variety of legal, operational and commercial risks a purchaser could be faced with.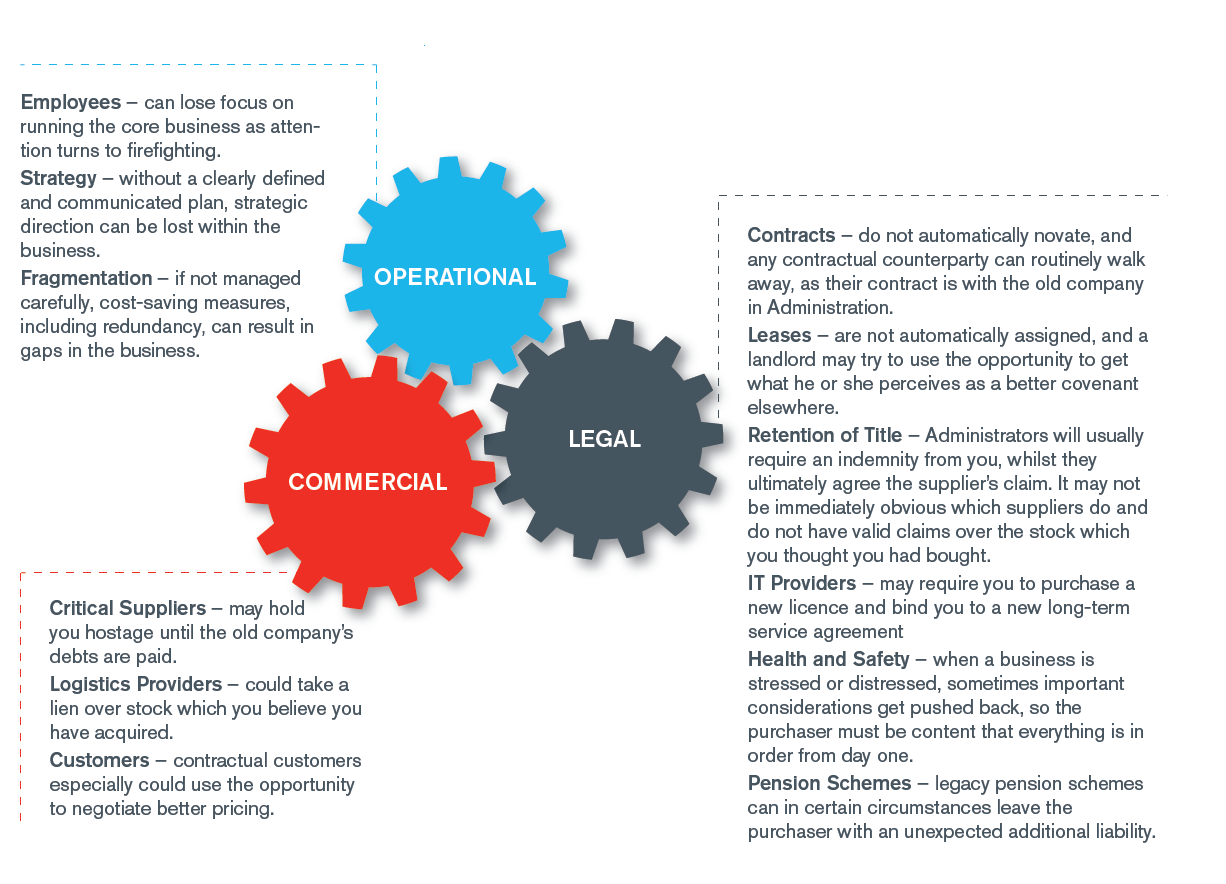 How Can Duff & Phelps Help with Purchasing a Stressed/Distressed Business?
Transition and Integration
Our Advisory team has wide-ranging experience negotiating sale terms with vendors and insolvency practitioners, which mitigates the purchaser's risks as outlined earlier. In addition, we can support a purchaser's management team in the days and weeks immediately after a business is acquired. This enables the core management team and employees to concentrate on the most important job: - running the business. At Duff & Phelps we recognize that no two businesses are the same and we tailor our approach accordingly depending on the needs of the client.
Recent Case Studies:
Agent Provocateur
Duff & Phelps was appointed by the purchaser to assist in negotiating the sale agreement with the proposed Administrators and subsequently to assist with the business transition and integration, including dealing with critical suppliers to secure stock, managing retention of title claims, forecasting, property negotiations, and establishing systems and processes. The business was stabilized within six weeks, after which we returned the responsibility for those areas to the management team. Aside from saving the purchaser substantial sums of money, Duff & Phelps secured a number of strategically important overseas stores for the purchaser.
Style Group Brands (incorporating brands: Jacques Vert, Dash, Eastex, Precis and Alexon)
Duff & Phelps was appointed by Calveton UK to advise on key contractual provisions in the sale agreement and subsequently to manage certain aspects of the stabilization of the business post-acquisition. Critical to this was securing the supply chain, whilst mitigating ransom claims from suppliers, wherever possible. Our work resulted in substantial cost savings, allowing for additional investment into new products for the business.
---
Valuation
Valuation
Valuation of businesses, assets and alternative investments for financial reporting, tax and other purposes.
Valuation Services
Valuation Services
Objective valuations for financial reporting, tax and management planning purposes.
Managed Services
Managed Services
Processes and strategies to manage and optimize information produced through M&A, divestitures and integration.
Return to top