Millennials and Auto Trends Report
Millennial Considerations in the Car-Buying Process
When millennials look for a new car, price, fuel efficiency and safety are top of mind, followed by style/look, size, brand reputation, technology and features, speed and other. There were no significant differences by country relative to the global results–other than in France and Italy where style and look was the third most popular response. Price and fuel efficiency are generally related and possibly reflect millennials' concerns about cost. In contrast, car buyers as a whole cite fuel efficiency as the 20th most important consideration in their purchase, providing further support as to the importance of this attribute to millennials.13
What Features Are Important in the Car-buying Process?


Millennials tend to rely mainly on personal research for their car-buying decisions. Globally, 68% of respondents selected personal research as most important, followed by online reviews (49%), family's or friend's influence (48%) and brand reputation/public perception (48%). Information from dealerships and social media were selected least frequently.
Top Information Sources That Millennials Prefer in the Car-buying Decision Process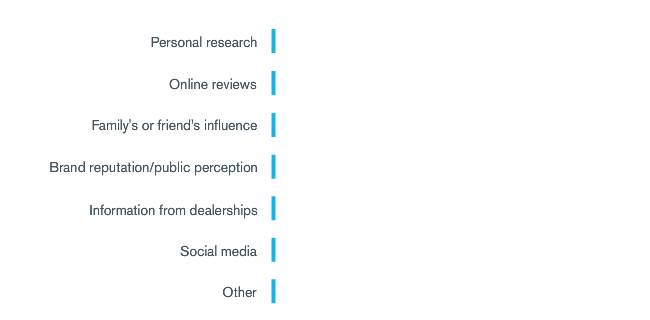 Millennials appear to be confident in performing their own research when car shopping, which speaks to their fluency with the internet and the near-limitless amount of information available to assist them, suggesting that Original Equipment Manufacturer (OEM) websites where you can build and price your own car, may be more critical for drawing in millennial buyers than dealerships–in which millennials placed low reliance.


Source
13 Jeff Plungis, "Automakers Sell Performance, but Consumers Want Fuel Economy and Safety," Consumer Reports, accessed September 25, 2019, https://www.consumerreports.org/cro/buying-a-car/automakers-sell-performance-consumers-want-fuel-economy-and-safe.
---
/en/insights/publications/m-and-a/millennials-and-auto-trends-report/millennial-considerations-car-buying-process
publication
2019-10-17T04:00:00.0000000
{1F8452CE-BB02-4541-A705-86D25933687E}
{22071366-6F45-4C04-8261-CDFA24749510}
{A60877A4-2248-456C-B8DE-728B8C4124FC}
{612AFC91-99B8-46FE-AEAF-8C0F5DE0126A}
{170088C8-830B-4C38-BC1D-E375A677EEDC}
{CA601B88-1E91-4803-A6A4-ECC35D220DCC}
{9BFE6389-B110-4433-9125-8B307DFA907B}
{D2F76246-57DE-4122-BA14-46AC90C515B4}
{796A58E9-D284-46A9-96EC-56B0D27685A6}
{5EDC6FDB-1A87-4447-A226-76CA6CD31223}