Market Share of Hybrid/Electric Vehicles (EVs) Poised to Increase
Despite the rise of hybrid vehicles in recent years, gas or diesel engines are still the preferred powertrain of choice with 54% of global respondents saying it appeals to them the most. However, 30% of respondents said a hybrid electric powertrain is most appealing, and 6% preferred an all-electric (EV).
Tracking14 with recent sales figures,15 interest in hybrids and EVs was even higher in Asia, with 41% of respondents selecting gas or diesel as their preference, 43% selecting hybrid electric powertrains and 7% selecting EVs. The higher interest in hybrids and EVs in Asia relative to the rest of the world is primarily driven by China (other than Hong Kong) and Hong Kong, where only 28% and 29% of respondents, respectively, find gas or diesel most appealing. Countries where more respondents selected gas or diesel relative to the global results include Brazil, India (the top two at 67%), the U.S., France, Germany and Canada.
Preference in Powertrain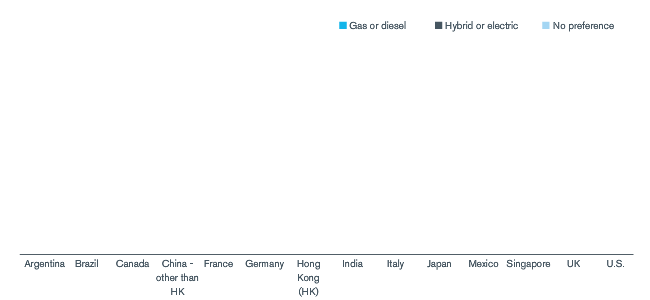 In 2018, approximately 2.4 million hybrid electric vehicles and 2.0 million EVs were sold globally,16 compared to global car sales of approximately 94.6 million vehicles.17 These sales represent a global market share of approximately 2.5% for hybrids and approximately 2.1% for EVs, or a global market share of 4.7% for cars with some type of battery propulsion system. Market share growth is expected to continue into 2019, with EV sales expected18 to be approximately 2.8 million vehicles.
China continues to be the EV market share leader, accounting for approximately 56% of global EV sales in 201818. The country is expected to increase its market share in EVs in 2019 as government regulations have limited the number of new vehicles with internal combustion engines. Until recently, the Chinese government limited hybrid electric vehicles the same as internal combustion engines, but the government has loosened these limits, which will likely produce increased sales of this type of propulsion system.
Millennials' Preference Toward Hybrid/Electric Vehicles Vs. Current Global Market Share of All Consumers.

Although gas or diesel powertrains remain the preferred choice globally, millennials' interest in hybrids and EVs is high relative to current market share. The survey data suggests that a hybrid or EV appeals most to 36% of millennials surveyed globally compared to a global market share of 4.7%. This finding may suggest some significant growth opportunity for hybrids and EVs. There appears to be even more opportunity when analyzing the data by country.

China (including Hong Kong) is the world's largest automotive market with approximately 30% market share. Here, hybrids and EVs are most appealing to more than 60% of millennials. Car sales in China of roughly 27 million in 201819, suggest potential interest in the purchase or lease of at least 8 million vehicles by millennials alone. In the U.S., the world's second-largest automotive market by country, hybrids and EVs appealed most to 26% of millennials. Although this is significantly lower than interest in China, it could suggest interest in the purchase or lease of over 2 million vehicles.
Globally, millennial interest in the purchase or lease of hybrids and EVs could be well over 17 million vehicles. Since nearly 100 different models of plug-in vehicles are expected to come to the market20 by 2022, it appears the global OEMs are spending their product development budgets wisely based on the data in our survey.



Sources
14 Michael Dunne, "Slowing economy will not halt China's EV ambitions," Nikkei Asian Review, accessed September 25, 2019, https://asia.nikkei.com/Opinion/Slowing-economy-will-not-halt-China-s-EV-ambitions.
15 "Asia Light Electric Vehicle Market Set to Reach USD 52.8 billion by 2024, Observing a CAGR of 7.0%: VynZ Research," Global Newswire, accessed September 25, 2019, https://www.globenewswire.com/news-release/2019/04/22/1807410/0/en/Asia-Light-Electric-Vehicle-Market-Set-to-Reach-USD-52-8-billion-by-2024-Observing-a-CAGR-of-7-0-VynZ-Research.html.
16 "Global Electric Vehicle Market Outlook Report 2019-2025," Business Wire, accessed September 25, 2019, https://www.businesswire.com/news/home/20190409005921/en/Global-Electric-Vehicle-Market-Outlook-Report-2019-2025.
17 Poskitt, "Global growth," LMC Locomotive.
18 "Global Electric Vehicle Report," Business Wire.
19 "Forecast: China car market to shrink again in 2019," LMC Automotive, accessed September 25, 2019, https://lmc-auto.com/wp-content/ uploads/2019/06/LMC-Auto-China-car-market-to-shrink-again-in-2019-J UN E-2019.pdf.
20 "Nearly 100 electrified models slated to arrive through 2022," Automotive News, accessed September 25, 2019, https://www.autonews.com/ article/20181001/OEM04/181009990/nearly-100-electrified-models-slated-to-arrive-through-2022
---
Return to top