Key Findings
---
Millennials Value Car Ownership – Will the Trend Continue?
Oct 17, 2019 - 75% of the respondents to our global survey currently own or lease a car.
by Mark Kwilosz, Robert A. Bartell, CFA, Stephen Burt, David Althoff, Howard Johnson, Alexandre Pierantoni, Andreas Stoecklin, Klaus Pflum, Paul Teuten, David Lu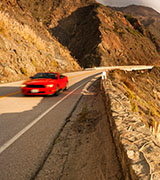 Key Findings
---
Millennial City Dwellers Will Continue to Own/Lease Cars
Oct 17, 2019 - According to our survey, 88% of global millennials living in cities who have a car expect to purchase or lease another one in the next five years.
by Mark Kwilosz, Robert A. Bartell, CFA, Stephen Burt, David Althoff, Howard Johnson, Alexandre Pierantoni, Andreas Stoecklin, Klaus Pflum, Paul Teuten, David Lu