Latin America Transactions Insights – Winter 2021
Adverse effects of the COVID-19 pandemic hit Latin America hard, but economies should return to observe growth in 2021. Regional GDP* is expected to decrease by 7.1% in 2020 and increase by 4.4% in 2021, although there will be large discrepancy among countries.
Despite political uncertainty and social disruptions (particularly in Venezuela and, more recently, in Peru), governments shall remain committed to a series of structural reforms (i.e., the administrative and tax reforms in Brazil or the labor/ third-party staffing regulation in Mexico), management of public spending and fiscal exposure, and simplification of the regulations. Privatizations also remain a top priority for the governments of most of the Latin America countries. This focus represents a short cash flow opportunity and will increase the region attractiveness for international investors.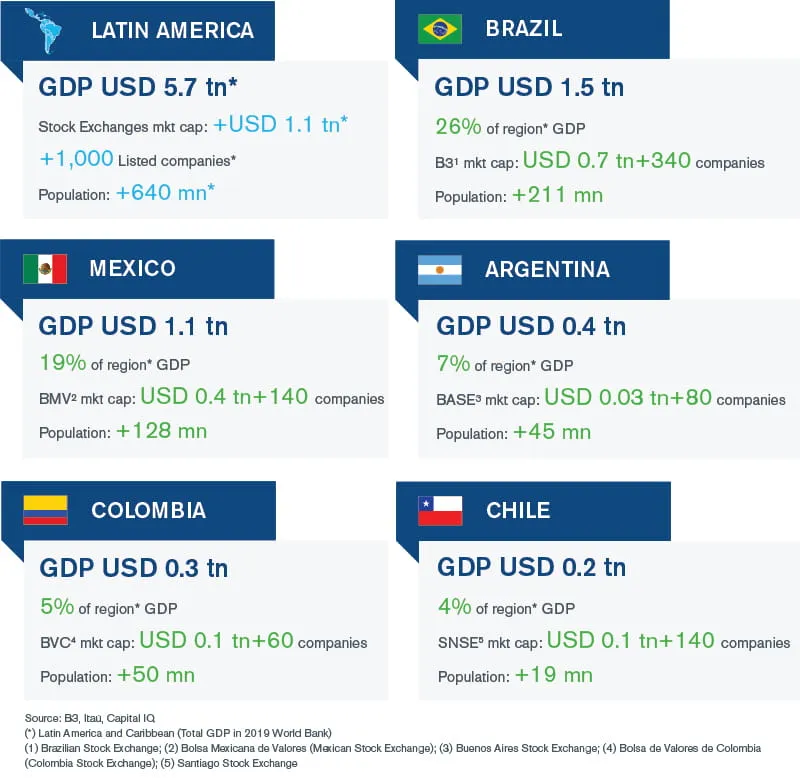 Brazil expects a GDP contraction of -4.1% in 2020, but the country leverages on its global commodities exports position and already shows signs of a strong recovery in Q3/Q4 2020 and aims a 4% growth in 2021. All-time low interest rates (2% per year), a robust internal demand (boosted by pandemic-related government incentives that reached 10% of the GDP) and fast-maturing capital markets are contributing to the recovery.
Mexico's economy has also been strongly affected by a reduction in export demand, coupled with the COVID-19 impact and lockdown measures. Oil price volatility also affected the economy. To mitigate the impacts of the pandemic, Mexico's government took social measures, like increasing expenditures in healthcare, lending to firms and workers and providing liquidity support. Mexico's central bank has cut basic interest rates from 7.25% in 2019 to 4.25% in 2020 and introduced measures to support the financial system. The country's GDP is expected to decrease by 9% in 2020 and recover 4% in 2021.
Source: Itaú
(*) Latin America and Caribbean
---
Corporate Finance and Restructuring
Corporate Finance and Restructuring
M&A advisory, restructuring and insolvency, debt advisory, strategic alternatives, transaction diligence and independent financial opinions.
Mergers and Acquisitions (M&A) Advisory
Mergers and Acquisitions (M&A) Advisory
Kroll's investment banking practice has extensive experience in M&A deal strategy and structuring, capital raising, transaction advisory services and financial sponsor coverage.
Fairness and Solvency Opinions
Fairness and Solvency Opinions
Duff & Phelps Opinions is a global leader in Fairness Opinions and Special Committee Advisory, ranking #1 for total number of U.S. and global fairness opinions over the past 10 years, according to Refinitiv cumulative data from 2013-2022.
Distressed M&A and Special Situations
Distressed M&A and Special Situations
Kroll professionals have advised hundreds of companies, investors and other stakeholders at all stages of distressed transactions and special situations.
Transaction Advisory Services
Transaction Advisory Services
Kroll's Transaction Advisory Services platform offers corporate and financial investors with deep accounting and technical expertise, commercial knowledge, industry insight and seamless analytical services throughout the deal continuum.
Private Capital Markets – Debt Advisory
Private Capital Markets – Debt Advisory
Kroll has extensive experience raising capital for middle-market companies to support a wide range of transactions.
Return to top