Industrial Technology Industry Insights – Fall 2022
Executive summary
Year-to-date market performance has been driven primarily by multiple contraction whereas earnings expectations for the year have remained stable. Increasing uncertainty from a variety of sources has coincided with a slight decrease in the pace of deal making. The fundamental backdrop for the sector remains strong. Investors and corporate executives recognize the importance of investment in technologies to drive productivity growth. As OEMs have incorporated more intelligence into their products, they have been able to capture and monetize their customers' operating data to deliver improved performance through offerings like condition monitoring and preventative maintenance, often sold as a service after the initial up-front product sale.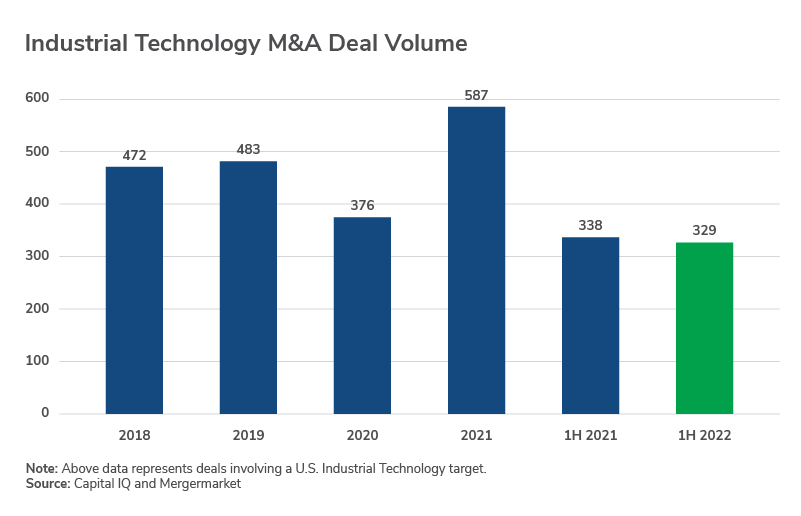 Spotlight: Warehouse Automation
Corporates facing supply chain constraints, labor shortages and rising costs are increasingly implementing digital and physical automation tools to reduce manual processes and improve their focus on customers and vendors. Smart warehouse technologies increase the efficiency, accuracy, security and safety of material and supply handling, management, storage and distribution. These benefits underpin the projected ~8% CAGR in the global warehouse automation market, from ~$20 billion in 2021 to ~$40 billion in 2030.The importance of the technologies in stabilizing supply chains and the significant room for consolidation will continue to drive M&A opportunities for investors.
Industrials 2Q 2022 Earnings Themes:
Sales and backlog growth remain robust

Investors focused on sustainability of margins vs. inflationary pressures

Short-cycle industrial distributors seeing continued good demand, 19% YoY growth in July

Supply chains constrained, though improving. Best supplier delivery performance since July 2020

Working capital impacts on free cash flow in focus

U.S. dollar strength: Highest level in two years versus major peers

Inflation continues in labor and freight
Read out Industrial Technology Industry Insights to learn more.
---
Connect with us on LinkedIn
Kroll Corporate Finance and Restructuring is now on LinkedIn. Connect with us for the latest insights on investment banking, corporate finance, restructuring and insolvency solutions.
Corporate Finance and Restructuring
Corporate Finance and Restructuring
M&A advisory, restructuring and insolvency, debt advisory, strategic alternatives, transaction diligence and independent financial opinions.
Mergers and Acquisitions (M&A) Advisory
Mergers and Acquisitions (M&A) Advisory
Kroll's investment banking practice has extensive experience in M&A deal strategy and structuring, capital raising, transaction advisory services and financial sponsor coverage.
Private Capital Markets – Debt Advisory
Private Capital Markets – Debt Advisory
Kroll has extensive experience raising capital for middle-market companies to support a wide range of transactions.
Financial Sponsors Group
Financial Sponsors Group
Dedicated coverage and access to M&A deal-flow for financial sponsors.
Transaction Advisory Services
Transaction Advisory Services
Kroll's Transaction Advisory Services platform offers corporate and financial investors with deep accounting and technical expertise, commercial knowledge, industry insight and seamless analytical services throughout the deal continuum.
Return to top