After the initial COVID-19 lockdowns in the first half of 2020, there was a surge in software M&A activity and valuations of software businesses reached record highs in 2021. 2022 was a different story and a year of transition for software M&A. In the first half of 2022, records continued to be set for software M&A, but a continuous slowdown followed through the year, with a sharp drop in deal volume in Q4 (77% decrease in deal value vs. Q4 2021).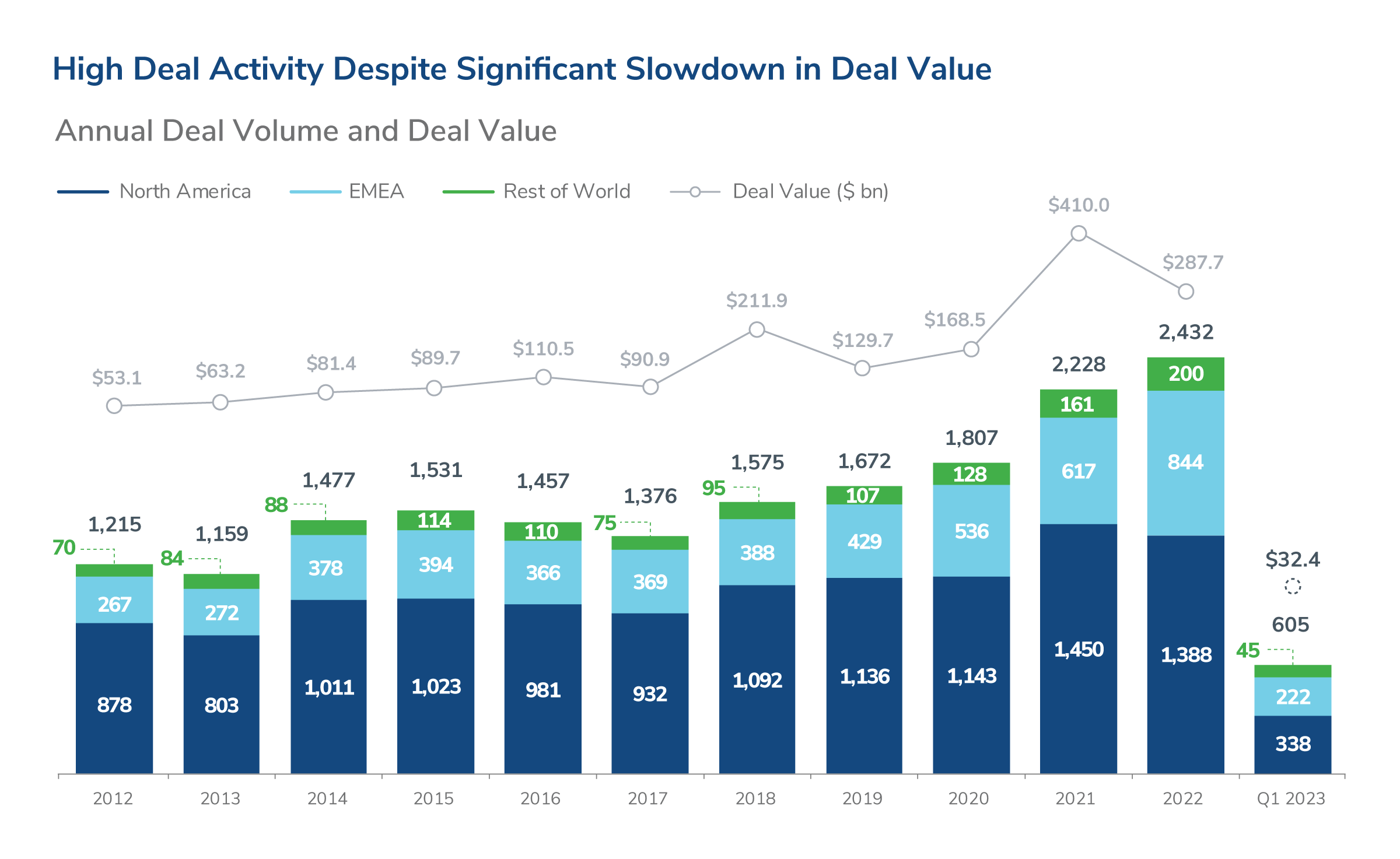 Public company valuations declined significantly in 2022, with software being at the forefront, as seen by Kroll's SaaS index dropping to 5.3x next twelve months revenue in December 2022, a level not seen since 2017 and 40% below December 2021. This flowed through to private companies seeing a derivative impact on their valuations, with several large private companies marking down their valuations, including Stripe, Klarna and Instacart.
Opening 2023, in terms of deal value, Q1 was in line with Q4 2022, with the exception of the $12 bn take-private of Qualtrics. However, the number of deals in the quarter has actually bounced back (605 software M&A deals in Q1 2023 vs. 492 in Q4 2022). Many of Q1's deals were small, with unreported values, as more digestible product tuck-ins have come back in fashion, making for an active mid-market.
However, the overall market environment remains very cautious. Since March 2022, the Fed has raised interest rates substantially with the goal of stemming inflation, which had reached 40-year highs. While the rate hikes have seemingly helped control inflation, the significant ramp-up in interest rates has sent jitters through the economy, with the banking crisis being the most recent example of the negative fallout from higher interest rates. With M&A deals in the mid-market, we saw a clear bid-ask spread form in the second half of 2022 with sellers still expecting valuations from 2021 and buyers realigning what they were willing to pay. As sellers realign their expectations, there is an expectation that the second half of 2023 will be a lot busier than the first.
---
Corporate Finance and Restructuring
Corporate Finance and Restructuring
M&A advisory, restructuring and insolvency, debt advisory, strategic alternatives, transaction diligence and independent financial opinions.
Private Capital Markets – Debt Advisory
Private Capital Markets – Debt Advisory
Kroll has extensive experience raising capital for middle-market companies to support a wide range of transactions.
Transaction Advisory Services
Transaction Advisory Services
Kroll's Transaction Advisory Services platform offers corporate and financial investors with deep accounting and technical expertise, commercial knowledge, industry insight and seamless analytical services throughout the deal continuum.
Preparing a Family Business for Sale
Discover how Kroll's M&A Advisory and Investigations teams helped a family company sell their business through constructing a robust financial projection model to attract lenders and investors.