Global Software M&A activity is reverting to pre-pandemic levels in Q3-2022 as measured by number of deals (down c.20% versus prior four quarters to 512) while total disclosed value ($65 billion) was c.40% below the prior four quarters. As anticipated, cash-rich strategic and financial buyers are turning to public targets trading at multiples not seen since 2018, driving a significant portion of activity over the quarter. The quarter saw just one deal in the >$10 billion range, the landmark acquisition of Figma by Adobe for $20 billion.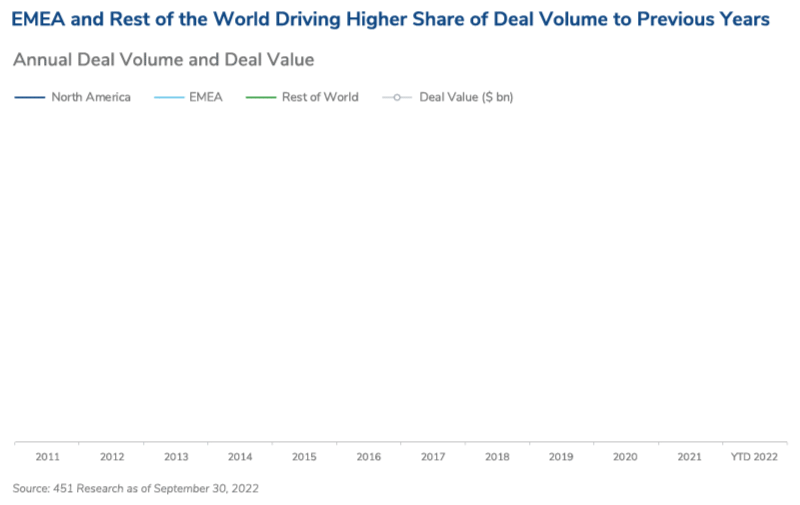 Following a brief end-of-summer rally, the September Consumer Price Index print and continued interest rate hikes resumed the downward pressure on public market valuations. The top quartile in our Software-as-a-Service (SaaS) index moved into single digit next twelve months (NTM) revenue territory and at 8.2x dropped past its 2018 low. Reported valuations in the private domain have remained relatively robust in comparison. This may be misleading as higher quality assets continue to attract intense bidding interest while other businesses sit out the turmoil, creating a natural selection bias that pushes disclosed multiples higher. A common theme across sellers and buyers alike is a far stronger focus on capital efficiency, which is here to stay.

Valuation expectations and liquidity are only one side of the coin. The ability to win and retain business, in a capital efficient manner, are the real value drivers for a business and an industry. Against an uncertain outlook, it will be unsurprising to see pressure on both sales cycles and deal cycles. These near term headwinds are meeting a formidable force in the inevitable tidal flow of ongoing digital transformation initiatives, which continue to be a C-suite priority and to drive spend in IT/software budgets. With record amounts of dry powder and cash on hand, in the coming months, we may see fortune favoring the bold becoming the prevailing narrative for both strategic and financial buyers.
---
Corporate Finance and Restructuring
Corporate Finance and Restructuring
M&A advisory, restructuring and insolvency, debt advisory, strategic alternatives, transaction diligence and independent financial opinions.
Mergers and Acquisitions (M&A) Advisory
Mergers and Acquisitions (M&A) Advisory
Kroll's investment banking practice has extensive experience in M&A deal strategy and structuring, capital raising, transaction advisory services and financial sponsor coverage.
Return to top