Food and beverage M&A deal activity in the U.S. and Canada made a significant recovery in the second half of 2020, with 295 deals closing over the year ending December 31, 2020. Transaction volumes in Q4 2020 were up just over 5% from the previous year, with 81 deals closing over the period compared to 77 the year before. Overall, 2020 deal count remained relatively flat compared to the 293 that closed over 2019. This signified an impressive comeback, given transactions dropped 25% in Q2 2020 following the onset of the COVID-19 pandemic.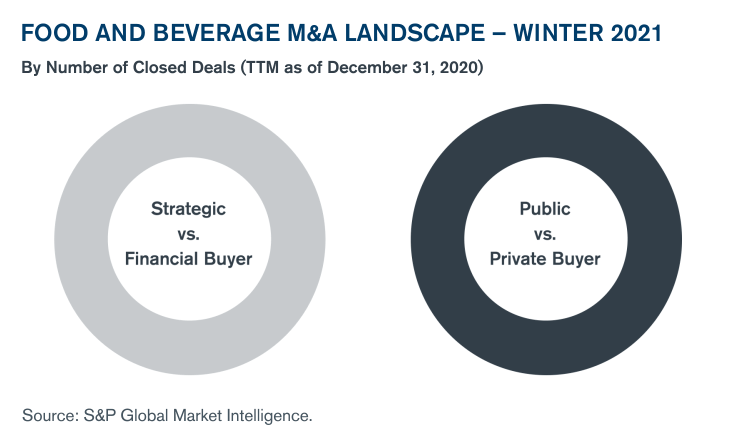 The final quarter of 2020 saw several notable North American deals. In the U.S., McCormick & Company was highly acquisitive—announcing two sizeable transactions in the period (Cholula Food Company Inc. and FONA International Inc.). The sale of Clearwater Seafoods Incorporated to a coalition of Premium Brands Holding Corporation and the Mi'kmaq First Nations was also a landmark deal in the Canadian landscape.
M&A activity in the food and beverage sector is still predominately driven by strategic buyers (including companies primarily owned by private equity investors), with strategic transactions representing 81% of total deal value over the year. Of the 295 deals closed over 2020, 242 (82%) were completed by privately owned buyers.
Q4 2020 continued to carry the rebound in M&A activity from the previous quarter, with the third highest Q4 M&A activity in the last 10 years, despite significant market headwinds, including a second wave of COVID-19 throughout North America and political turmoil surrounding the U.S. election. With vaccination programs rolling out across the U.S. and Canada and the recent inauguration of President Joe Biden, buyers and investors will likely have better visibility (and stability) heading into this year. Moreover, with strategic buyers' large cash reserves, private equity funds' ample dry powder and low interest rates, the outlook for M&A activity in 2021 is robust. In the near term, we may see continued divergence of trends within the food and beverage sector as pandemic restrictions remain in place until vaccination uptake accelerates. Businesses with heavy exposure to retail, e-commerce or delivery should still see strong demand fundamentals, whereas companies geared to food service end markets will likely struggle until lockdowns are lifted and more normalcy returns to consumer's lives.
Read the Food and Beverage M&A Landscape for more details on transaction activity, industry in-sights and sector updates.
Sources: Capital IQ as of December, 2021
Note: M&A deal count is defined by a list of subsectors viewed as the best representation of the industry
---
Corporate Finance and Restructuring
Corporate Finance and Restructuring
M&A advisory, restructuring and insolvency, debt advisory, strategic alternatives, transaction diligence and independent financial opinions.
Consumer Investment Banking
Consumer Investment Banking
Consumer, Retail, Food and Restaurant expertise for middle-market M&A transactions.
Distressed M&A and Special Situations
Distressed M&A and Special Situations
Kroll professionals have advised hundreds of companies, investors and other stakeholders at all stages of distressed transactions and special situations.
Transaction Advisory Services
Transaction Advisory Services
Kroll's Transaction Advisory Services platform offers corporate and financial investors with deep accounting and technical expertise, commercial knowledge, industry insight and seamless analytical services throughout the deal continuum.
Fairness and Solvency Opinions
Fairness and Solvency Opinions
Duff & Phelps Opinions is a global leader in Fairness Opinions and Special Committee Advisory, ranking #1 for total number of U.S. and global fairness opinions over the past 10 years, according to Refinitiv cumulative data from 2013-2022.
Private Capital Markets – Debt Advisory
Private Capital Markets – Debt Advisory
Kroll has extensive experience raising capital for middle-market companies to support a wide range of transactions.
Financial Sponsors Group
Financial Sponsors Group
Dedicated coverage and access to M&A deal-flow for financial sponsors.
Return to top