European Chemicals Update – Late Spring 2022
In this edition of European Chemicals Update from Kroll, we evaluate current trends for key raw materials, prevailing investor sentiment and valuation developments in the featured consumer specialty chemicals sub-sector.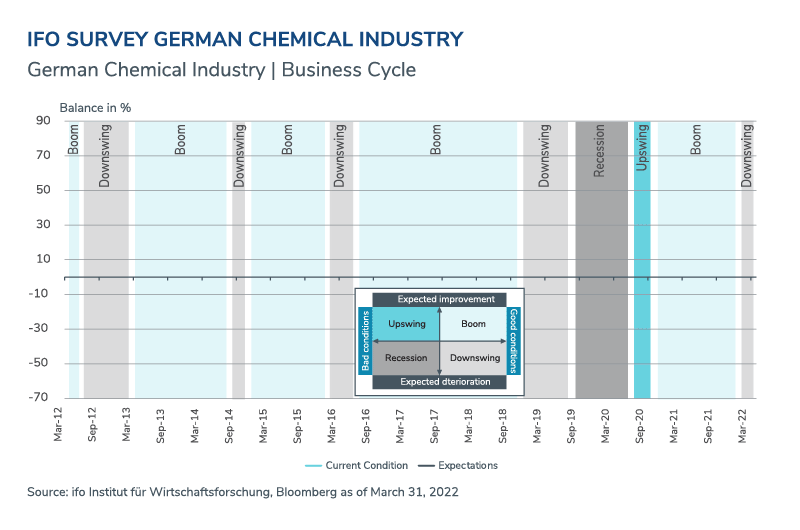 Top Insights:
Key raw materials prices in the chemicals sector witnessed an uptick in Q1 2022, driven mainly by the Russia-Ukraine conflict and concerns around supply shortages.
Next, the ifo Business Climate Index for the German chemical industry changed to negative in Q1 2022, with current conditions having a steep fall and expectations moving into the negative territory, mainly as a consequence of the ongoing conflict in Ukraine and supply chains disruption. This indicates the German companies' concern regarding current business activities and tough conditions in the near future.
Finally, in the consumer specialty sub-sector, featured companies showed an increase in market capitalization. Top performers include Croda International and Givaudan SA, which generated approximately 25% and 14% share price gain in the last 12 months, respectively, while the share price of Koninklijke DSM N.V. also had a double-digit growth rate.
European Chemicals Update &ndash; Late Spring 2022<p />
/en/insights/publications/m-and-a/european-chemicals-update-late-spring-2022
/-/media/kroll-images/insights/feature-images/european-chemicals-update-late-spring-2022.jpg
2022-05-27T00:00:00.0000000
publication
{746781D2-7596-4EA3-BB0D-61CC7AC16C05}
{22071366-6F45-4C04-8261-CDFA24749510}
{A60877A4-2248-456C-B8DE-728B8C4124FC}
{CC4AA7F7-C91B-4C23-A8A9-F85252244AAE}
{170088C8-830B-4C38-BC1D-E375A677EEDC}
{70E25357-B690-49B8-948F-958DAD26DCD4}