Brazilian Franchise Sector: An Abundance of Opportunity
According to the Associação Brasileira de Franchising – ABF (Brazilian Franchisee Association), the franchise sector grew 7.1% in 2018, with revenues totaling R$174.8 billion. Even with economic and political uncertainties, the sector outperformed the country's GDP growth of 1.1% in 2018, according to Instituto Brasileiro de Geografia Estatística (IBGE), demonstrating its increased consumption and investments.

In a year of presidential elections, high unemployment rates of approximately 12%, according to IBGE, and an overall economic crisis (which resulted in a modest 1.1% GDP growth, according to IBGE), investments and mergers and acquisitions (M&A) activity in the franchise sector were robust. Strategic and financial sponsors completed relevant deals positioning themselves for future growth.

Despite recovering from one of the longest and most severe economic crises, according to an ABF study, Brazil's franchisee sector expanded the number of stores by 5.2%, reaching 153.7 thousand, with a total of 2.8 thousand active brands, compared to 1.1% growth in 2017. This growth can be attributed to factors such as large national groups adhering to the franchise system and existing franchisees launching new brands. An average increase in the number of stores per brand (53.4 stores in 2018, versus 51.4 in 2017) signals market development and a higher degree of maturity.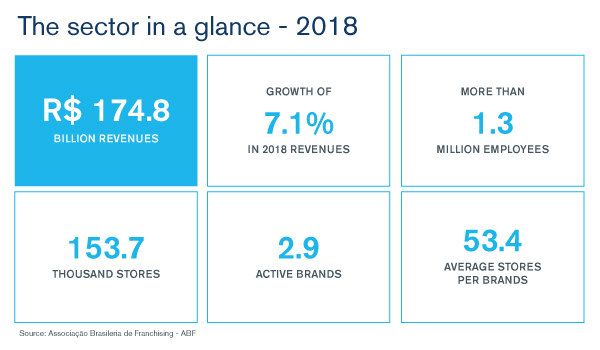 Multi-brand and multi-store operators structured under a holding investments model – a well-developed and established system in countries like the U.S., Canada, Germany and the UK – are likely to become a common reality in Brazil in the near-term. It is likely that consolidation, the establishment of platforms and the presence of regional/national operators will take place in the sector. This unique alternative can create a strong and robust operator (for both franchisor and franchisee) that can afford necessary investments in new technologies, store models, scale and capillarity (also reaching smaller cities).

Brazil is expected to recover to GDP levels of early 2000 with GDP growth between 2.0% and 3.0% per year moving forward, according to a Focus report. The franchisee sector will likely continue to be an important influencer of this growth and a relevant employer – according to an ABF study, the franchise sector employed 1.3 million people in Brazil in 2018 (a growth of 8.8% in relation to 2017). The sector reacted quickly to the country's economic performance and directly affected many consumers in a virtuous cycle of employment and consumption. In the last quarter of 2018, with presidential elections defined and a clear outlook for expected economic, tax, labor and judiciary reforms, the level of confidence increased in Brazil and the sector quickly reacted. According to ABF, franchise sector revenues grew 8.2% in the last quarter of 2018, as compared to the same period of 2017. Franchise segments leading this recovery in 2018 were related to leisure and entertainment, hotels and construction/housing.
Segments that will likely continue leading M&A and consolidation activity include services (personal care, education and consumer-related), food (in all its sub-segments like bars, fast and gourmet food, mass and casual dining) and overall retail (business-to-business or business-to-consumer, including entertainment and leisure). Given the expected growth in Brazil's economy in 2019 and 2020, there may also be increased activity in the housing and construction sectors. Cash may be the primary driver of growth and consolidation of national players and financial sponsors will likely continue to be the primary source of funds.

Finally, a complete investment strategy may be built as exit strategies are solid: international strategic investors are monitoring both Brazilian operations and capital markets (initial public offerings) for sizable and national opportunities.

Globally, and in Brazil, the franchise sector is dynamic, active and may be positioned for growth with an abundance of opportunities. Cash to fund existing operations and funds for regional/national expansion will be of paramount importance in Brazil. Factors such as platform, multi-brand and multi-store acquisitions are driving sector activity, and operations that continue to develop through this strategy will likely enjoy continued success.

* Represent a general list for example purposes. No specific criteria, investor, size, sector or any other information or relevance was considered to produce the list
---
Corporate Finance and Restructuring
Corporate Finance and Restructuring
M&A advisory, restructuring and insolvency, debt advisory, strategic alternatives, transaction diligence and independent financial opinions.
Mergers and Acquisitions (M&A) Advisory
Mergers and Acquisitions (M&A) Advisory
Kroll's investment banking practice has extensive experience in M&A deal strategy and structuring, capital raising, transaction advisory services and financial sponsor coverage.
Financial Sponsors Group
Financial Sponsors Group
Dedicated coverage and access to M&A deal-flow for financial sponsors.
Private Capital Markets – Debt Advisory
Private Capital Markets – Debt Advisory
Kroll has extensive experience raising capital for middle-market companies to support a wide range of transactions.
Consumer Investment Banking
Consumer Investment Banking
Consumer, Retail, Food and Restaurant expertise for middle-market M&A transactions.
Transaction Advisory Services
Transaction Advisory Services
Kroll's Transaction Advisory Services platform offers corporate and financial investors with deep accounting and technical expertise, commercial knowledge, industry insight and seamless analytical services throughout the deal continuum.
Return to top