Brazil is experiencing a strong recovery after the economic turmoil caused by COVID-19. The country has not experienced long term lockdowns or social restrictions and, based on a more active roll out of the vaccines and recent GDP growth figures (1Q21 GDP growth was 1%), the country expects a 5.5% 2021 GDP growth.
After a GDP contraction of 4.5% in 2020, one of the lowest declines in Latin America, 2021 growth is driven by internal demand, a strong government emergency aid program (+10% of GDP) and favorable global cycle (volume and price) for commodities.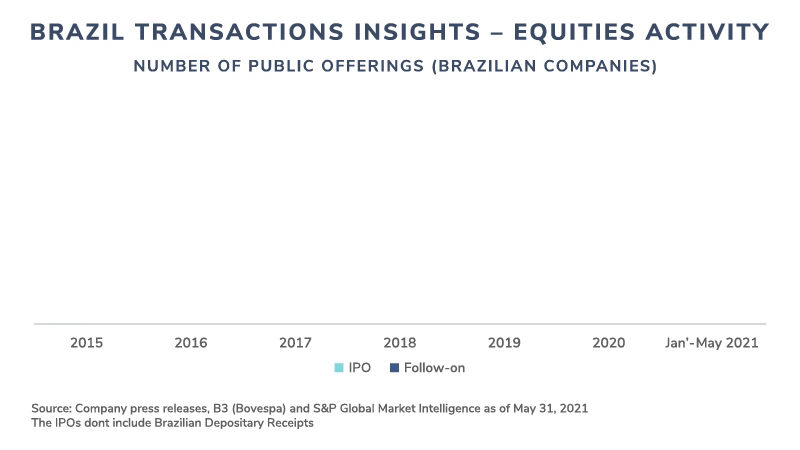 Brazilian federal government remains committed to a series of important structural reforms, including the simplification of the over-complex domestic tax environment and the administrative reform, aimed to reduce public spending. The privatization program remains one of the main priorities in the government's agenda for the coming months, pointing to relevant opportunities for long-term investments in infrastructure and the foundation of the country's sustained growth.
With domestic interest rates at historical low levels, there is an ongoing, positive revolution underway in the Brazilian capital markets, driven by a strong shift in traditionally low-risk investments to the real economy. Both IPO and M&A volumes in 2021 are already at record levels.
Corporate Finance and Restructuring
M&A advisory, restructuring and insolvency, debt advisory, strategic alternatives, transaction diligence and independent financial opinions.
Mergers and Acquisitions (M&A) Advisory
Kroll's investment banking practice has extensive experience in M&A deal strategy and structuring, capital raising, transaction advisory services and financial sponsor coverage. Duff & Phelps acquired Kroll in 2018 and unified under the Kroll brand in 2020.
Transaction Advisory Services
Kroll's Transaction Advisory Services platform offers corporate and financial investors with deep accounting and technical expertise, commercial knowledge, industry insight and seamless analytical services throughout the deal continuum. Duff & Phelps acquired Kroll in 2018 and unified under the Kroll brand in 2020.
Fairness and Solvency Opinions
Duff & Phelps Opinions is a global leader in Fairness Opinions and Special Committee Advisory, ranking #1 for total number of U.S. and global fairness opinions over the past 10 years, according to Refinitiv cumulative data from 2013-2022.
Financial Sponsors Group
Dedicated coverage and access to M&A deal-flow for financial sponsors. In 2018, Duff & Phelps acquired Kroll and unified under the Kroll brand in 2020.
Return to top