The automotive industry slowed considerably in the first half of 2020 as COVID-19 decimated economies and eroded consumer confidence worldwide. As plants shut their doors and auto manufacturers and suppliers trimmed costs wherever possible, the auto industry suffered meaningfully. While the fallout of the virus remains to be seen, hope for a quick rebound waned as expectations for long-term consumer spending, especially on durable goods, including automobiles, dimmed.1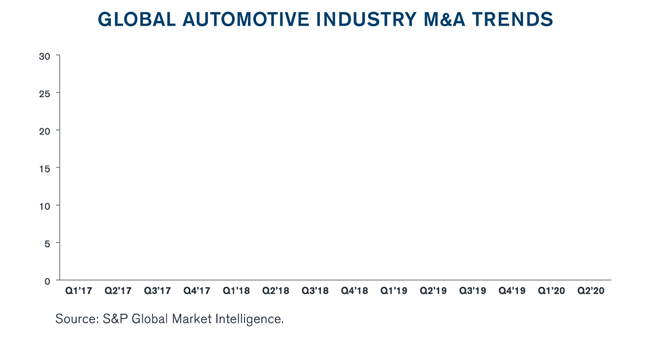 Global light vehicle sales declined 32.0% in H1 2020 relative to the same period in 2019 as COVID-19 depressed the market throughout the first quarter. In the U.S., light vehicle sales declined 24.0% year-over-year to 6.5 million units in the half.2 In June 2020, U.S. light vehicle sales remained low at 13.1 million units at a seasonally adjusted annual rate (SAAR), up slightly from the 11.4 million mark in March 2020.3

Interest rates on consumer installment loans for new automobiles were 5.13% in May 2020 in the U.S., down from 5.29% in February 2020 and 5.35% in May 2019, as the Fed's rate cuts began filtering through the economy.4

In H1 2020, auto sales in China declined 17.1%, compared to the same period in 2019. New energy vehicles suffered with a greater impact, contracting 56.4% year-over-year.5

In Europe, decreases in new passenger registrations occurred throughout Q1 2020 which culminating in a 26.5% decline in the YTD March 2020 period relative to the same period ending March 31, 2020.6

M&A activity in the automotive sector experienced a significant decrease in the first half of 2020 compared to the final quarters of 2019. Deal count in Q1 2020 consisted of 8 deals and Q2 2020 had 6 closed transactions, decreases from 13 and 21 in Q1 and Q2 2019, respectively. It appears COVID-19 has impacted automotive M&A volume as upwards of 20 transactions were completed in each of Q2, Q3 and Q4 2019.7

Public company equity performance in the Automotive Original Equipment Manufacturer (OEM), Dealer, Aftermarket and Supplier sectors all trended downward in the first quarter of 2020 with modest upticks in the second quarter.7


Sources
1 Barua, Akrur. "What Might be Expected of Consumer Spending in a COVID-19-Driven Business Cycle?" Deloitte Insights. April 29, 2020.
2 "Global Light Vehicle Sales Update." LMC Automotive Public Data. June 2020.
3 "U.S. Light Vehicle Sales." WardsAuto Public Data.
4 Federal Reserve Economic Data (FRED).
5 China Association of Automobile Manufacturers.
6 "Passenger Car Registrations: -25.6% First Quarter of 2020; -55.1% in March." European Automobile Manufacturers Association. April 17, 2020.
7 S&P Global Market Intelligence.
---
Corporate Finance and Restructuring
Corporate Finance and Restructuring
M&A advisory, restructuring and insolvency, debt advisory, strategic alternatives, transaction diligence and independent financial opinions.
Distressed M&A and Special Situations
Distressed M&A and Special Situations
Kroll professionals have advised hundreds of companies, investors and other stakeholders at all stages of distressed transactions and special situations.
Transaction Advisory Services
Transaction Advisory Services
Kroll's Transaction Advisory Services platform offers corporate and financial investors with deep accounting and technical expertise, commercial knowledge, industry insight and seamless analytical services throughout the deal continuum.
Fairness and Solvency Opinions
Fairness and Solvency Opinions
Duff & Phelps Opinions is a global leader in Fairness Opinions and Special Committee Advisory, ranking #1 for total number of U.S. and global fairness opinions over the past 10 years, according to Refinitiv cumulative data from 2013-2022.
Financial Sponsors Group
Financial Sponsors Group
Dedicated coverage and access to M&A deal-flow for financial sponsors.
Private Capital Markets – Debt Advisory
Private Capital Markets – Debt Advisory
Kroll has extensive experience raising capital for middle-market companies to support a wide range of transactions.
Return to top