Following a Q1 dominated by global containment efforts to combat the spread of COVID-19, the global economy gradually started to re-open during Q2, which has led to a strong snap-back in the public markets and broad improvement across key economic performance indicators. Recent developments of COVID-19 vaccine production have further bolstered global economic recovery heading towards the second half of the year, notwithstanding continued macroeconomic uncertainty from the impending U.S. presidential election.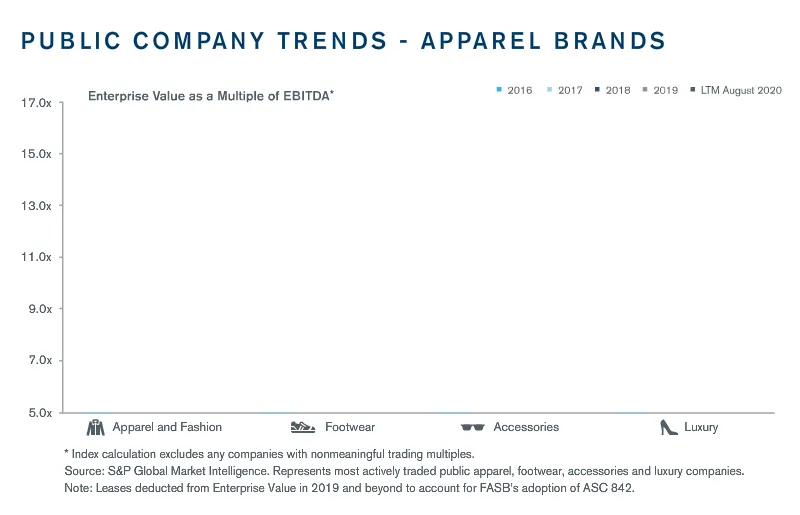 The unemployment rate continued to improve, dropping from 10.2% in July to 8.4% in August, which is by far the lowest rate since shutdowns started to occur in March.1 The retail sector, specifically, added 249,000 jobs in August as stores nationwide continue to re-open.1 Retail sales rose for a third straight month at 1.2% in July (clothing specifically increased 5.7%), following an even stronger June where retail sales rose 8.4%.2 Furthermore, consumer spending in July increased 1.9% compared to the prior month, indicating a continued rise in consumer confidence.3 Time will tell when the economy reaches a full recovery, but most agree we are heading towards the right side of the curve.
While the retail and apparel sector was significantly affected by the pandemic, the industry has experienced a steady recovery consistent with the broader economy. Apparel and retail brands were able to help soften the blow from retail store closures during the peak of the pandemic, fueled by a large increase in eCommerce sales – a trend that was sharply accelerated by COVID-19 and is expected to continue for the foreseeable future. Additionally, retail sales have started to rise over the last three months as stores have gradually re-opened and consumers have become more willing to shop brick-and-mortar, comforted by in-store safety precautions and more education on how the virus spreads. Both of these trends have led to many public apparel and retail brands reporting positive earnings in Q2, with a more favorable outlook for the rest of the year.
Our quarterly apparel report aims to identify trends and provide insights across the apparel sector, focusing on key themes, issues and opportunities. In this issue's sector spotlights, we explore key strategies employed by successful direct-to-consumer-focused brands and the impact of COVID-19 retail environment on brands and retailers.
Sources
1 "Payrolls Increase By Nearly 1.4 million As the Unemployment Rate Tumbles." CNBC. September 4, 2020
2 "Americans Keep Buying Stuff Despite the Pandemic — Retail Sales Rise For a Third Straight Month." CNBC. August 14, 2020
3 "US Consumer Spending Rose a Moderate 1.9% In July." AP News. August 28, 2020
---
Corporate Finance and Restructuring
Corporate Finance and Restructuring
M&A advisory, restructuring and insolvency, debt advisory, strategic alternatives, transaction diligence and independent financial opinions.
Distressed M&A and Special Situations
Distressed M&A and Special Situations
Kroll professionals have advised hundreds of companies, investors and other stakeholders at all stages of distressed transactions and special situations.
Consumer Investment Banking
Consumer Investment Banking
Consumer, Retail, Food and Restaurant expertise for middle-market M&A transactions.
Transaction Advisory Services
Transaction Advisory Services
Kroll's Transaction Advisory Services platform offers corporate and financial investors with deep accounting and technical expertise, commercial knowledge, industry insight and seamless analytical services throughout the deal continuum.
Fairness and Solvency Opinions
Fairness and Solvency Opinions
Duff & Phelps Opinions is a global leader in Fairness Opinions and Special Committee Advisory, ranking #1 for total number of U.S. and global fairness opinions over the past 10 years, according to Refinitiv cumulative data from 2013-2022.
Financial Sponsors Group
Financial Sponsors Group
Dedicated coverage and access to M&A deal-flow for financial sponsors.
Private Capital Markets – Debt Advisory
Private Capital Markets – Debt Advisory
Kroll has extensive experience raising capital for middle-market companies to support a wide range of transactions.
Return to top