Cost Trend Update Bulletin for Year Ended December 31, 2017
Construction Cost Indices
Construction costs have been relatively stable over the last five years, with annual increases averaging approximately 2.25%. However, that changed during 2017, with an increase of 2.7% to 4% in three of the four indices that we track for U.S. construction costs. The increase was primarily attributable to a rise in material costs including cement, gypsum products, steel and lumber. The large increase in the material costs were offset by the continued low cost of labor. However, this is anticipated to change in 2018 due to the scarcity of skilled workers. With labor prices predicted to rise in 2018, annual construction cost trends are anticipated to continue to increase more than the historical average of 2.25%.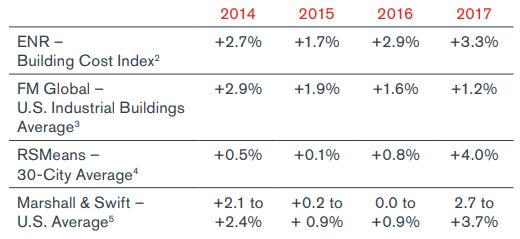 Note: The range of change shown by Marshall & Swift represents different classes of construction.
Equipment Cost Indices
Average equipment cost indices are also trending to above average increases in the 0.9% to 2.6% range.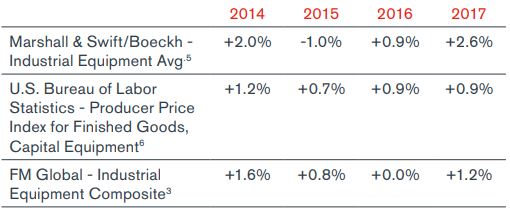 Take care when selecting an index to track the rate of cost change for your company's capital equipment. The three indices in the table above all track average capital equipment cost change percentages and indicate the differences that have occurred over the past four years. Developers − as well as insurance brokers, underwriters and valuation consultants − can all recommend appropriate indices for your facilities. Select one that represents your capital equipment as closely as possible; there are significant differences between the average indices shown here and specific industrial-sector indices.

Remember that cost indices are just average indicators of change; they are not absolutes, and there is no average building or assemblage of equipment. After five to seven years, you should establish a new replacement cost basis by using a qualified valuation consultant.
Sources
1. MEPS (International), Ltd, All carbon steel products composite price and index
2. Engineering News-Record, Monthly Construction Economics Report
3. FM Global, Industrial Cost Trends
4. RSMeans, Construction Cost Indices, 30-City Average
5. Marshall & Swift/Boeckh, Marshall Valuation Service, Quarterly Cost Index
6. U.S. Bureau of Labor Statistics, Producer Price Index for Finished Goods - Capital Equipment
---
Valuation Advisory Services
Valuation Advisory Services
Our valuation experts provide valuation services for financial reporting, tax, investment and risk management purposes.
Valuation Services
Valuation Services
When companies require an objective and independent assessment of value, they look to Kroll.
Fixed Asset Advisory Services
Fixed Asset Advisory Services
Kroll provides clients the transparency they need by identifying, managing, and valuing their fixed assets.
Insurance Valuation Services
Insurance Valuation Services
Kroll provides commercial and personal property insurance valuation services (for fixed assets like buildings, plant and machinery) to clients worldwide.
Return to top