Kroll Named a Leader in Customer Data Breach Notification and Response Services Report by Independent Research Firm
Kroll recently announced the results of The Forrester Wave (TM), Customer Data Breach Notification and Response Services, Q3 2015 report. Kroll was identified as a leader among evaluated vendors offering these and related services.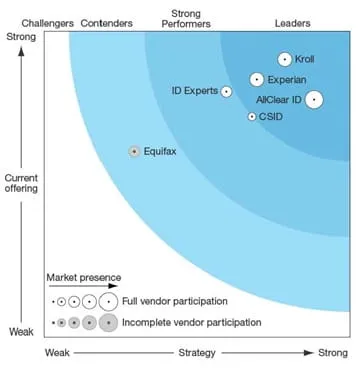 Further, Kroll achieved the top score in the Current Offering category. This category included criteria related to data breach response, such as: call center, notification mailings, other notification communications, reporting, translations, and identity monitoring and remediation. For all of these, Kroll received the highest score possible.
"We are honored to achieve the highest score possible for the criteria listed above," said Brian Lapidus, practice leader for Kroll's Identity Theft and Breach Notification division. "We believe this is further testament to the unparalleled level of expertise our team members bring to every aspect of our diverse set of services from the most basic notification letter to the most complex investigation."
The full report contains evaluation analysis as well as the iconic Forrester Wave (TM) graphic and Scorecard, illustrating the "six providers that matter most and how they stack up."
For a complete download of the report, click here.
By Kroll Editorial Team
---
Cyber Risk
Cyber Risk
Incident response, digital forensics, breach notification, managed detection services, penetration testing, cyber assessments and advisory.
Return to top