Reducing a Hospitality Company's Cyber Risk Surface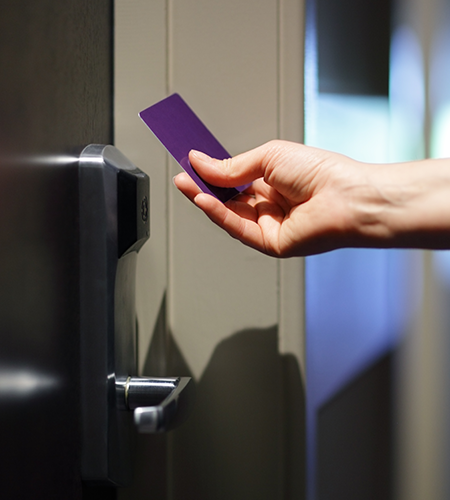 A hospitality company wanted to improve its security maturity to support its global expansion, protect its reputation and demonstrate compliance.
By choosing Kroll Responder, Kroll's award-winning managed detection and response (MDR) service, the business has been able to successfully enhance security visibility across its hybrid infrastructure and respond to threats more swiftly than ever before.
Overview
Industry
Challenges
Large and distributed IT estate
Legacy infrastructure and point-of-sale systems
Limited internal security resources
Kroll Services
Impact
Enhanced resilience
Greater situational awareness
Improved compliance
The Challenge
A hospitality company had ambitious growth plans and wanted to ensure that its security strategy was aligned with its goal of becoming a leader in its sector.
With a global reach, the company had a number of complex security challenges. A security audit commissioned by its in-house security team identified potential improvements in several areas, including a need for proactive network monitoring to help reduce the time to detect and respond to threats across its infrastructure.
The company's hybrid environment included specialist point-of-sale systems and a set of on-premises legacy IT systems. However, it had limited resources in-house to meet its need to conduct security monitoring and analysis 24/7/365. This challenge was exacerbated by the complexity of coordinating its cyber security functions globally, as well as the decision to refresh its infrastructure and services as part of a multi-year IT strategy. The company's IT Security and Infrastructure Director comments,"Kroll's security experts work hand in hand with our in-house team, providing us with the insights we need to identify and eliminate threats across our environment 24/7."
Kroll's Solution
The company wanted to move quickly to respond to the findings of the security audit that it had commissioned. It was in the process of putting together a new internal security team to address its requirements but needed an agile security partner to provide additional support.
To identify a suitable partner, the company conducted an extensive request for proposal, and after evaluating a number of managed security providers, it identified Kroll as the best choice for its needs.
The business recognised that Kroll Responder, Kroll's award-winning MDR service, would provide the support and expertise it needed to hunt for and help shut down cyber threats, 24/7.
Combining experienced security personnel, leading network and endpoint detection technologies, and up-to-the minute threat intelligence, Kroll Responder has significantly improved security visibility across the company's hybrid infrastructure and reduced its mean time to detect and mean time to respond to threats.
The company's IT Security and Infrastructure Director says:
"Maturing our security posture is vital to maintaining our global reputation. By working with Kroll, we have significantly improved our operational resilience, including our ability to swiftly detect and respond to threats."
"Kroll's security experts work hand in hand with our in-house team, providing us with the insights we need to identify and eliminate threats across our environment 24/7. We see our partnership with Kroll as key to supporting our security and business objectives."
The Impact
Improved Resilience
Working in partnership with Kroll enables the business to continually protect its infrastructure and progress with its strategy of expansion and goal of pursuing its objective to be a leader in its sector.
Proactive Threat Monitoring
Although the company previously did not have any out-of-hours security support, it now has around-the-clock threat monitoring analysis, notification and hunting through Kroll's dedicated 24/7/365 global security operations centres. This ensures that the business is much more resilient and better set up to respond effectively to cyber threats.
Scaled-up Security Capabilities
As a turnkey security service, Kroll Responder has ensured the company was able to quickly scale up its security capabilities and start protecting key infrastructure and assets.
Supplementary Security Expertise
Kroll's team works in partnership with the company's security team, with regular updates and input from a dedicated Kroll programme manager. By strengthening the company's strategic outlook through enhanced security operations, Kroll has supported its ongoing success. Kroll provides an extended cross-regional team.
Enhanced Situational Awareness
As well as the comprehensive security insights provided through Kroll's Redscan threat management platform, the company's security team receives monthly service reports. These reports enhance stakeholders' situational awareness and track the performance and value of the service. The team also benefits from regular service reviews to help identify ways to further enhance its security posture.
Improved Compliance
The company requires data portability across its operations, presenting a number of compliance challenges. Working with Kroll has helped it to better meet the requirements of the latest information security regulations and standards, including SOC2, GDPR, PCI DSS and ISO 27001.
Learn more about Kroll Responder, our Managed Detection and Response solution.
Cyber Risk
Cyber Risk
Incident response, digital forensics, breach notification, managed detection services, penetration testing, cyber assessments and advisory.
Kroll Responder MDR
Kroll Responder MDR
Stop cyberattacks. Kroll Responder managed detection and response is fueled by seasoned IR experts and frontline threat intelligence to deliver unrivaled response.
Cyber Risk Assessments
Cyber Risk Assessments
Kroll's cyber risk assessments deliver actionable recommendations to improve security, using industry best practices & the best technology available.
Return to top