With the now thousands of individuals and entities being sanctioned following the Russian invasion of Ukraine, it is more important than ever for companies to know who they are doing business with, and whether their third parties have hidden ties that pose sanctions and reputational risks.
Ever-changing Environment
The war on Ukraine has seen sanctions imposed on an unprecedented number of individuals and entities, with new sanctions issued on an almost daily basis. Sanctions issued by the U.S., EU and UK in recent years have been sporadic, with only a few individuals and companies targeted at any one time. This presented a challenge to companies needing to stay up to date and be compliant, but it was generally manageable for firms with a robust sanction monitoring program in place.
Companies with more automated and reliable solutions will have sanctions screening integrated into their counterparty management processes and their customer onboarding and payment systems. Anti-bribery and corruption (ABC) regulations in many jurisdictions added a requirement to then monitor counterparties on an ongoing basis, as a pillar of detecting and preventing bribery and corruption.
The implementation of sanctions against an individual or entity is relatively straightforward for companies to understand—it is no longer possible to do business with them or on their behalf without risking unlimited fines and prosecution. Sanctions lists are publicly available and platforms such as the Kroll Compliance Portal can provide effective screening solutions to help companies identify sanctioned individuals and entities.
The challenge is understanding sanctions and reputational risks beyond those that are immediately apparent when dealing with a counterparty.
Understanding Ownership and Influence
For companies with counterparties providing higher-risk services or for those based in jurisdictions at higher risk of corruption, it is more important than ever for companies to understand who they are doing business with.
One key component is understanding the counterparty's full ownership structure. Depending on a company's onboarding policies and procedures, counterparties may only be asked to disclose their immediate shareholders, if they are asked at all.
Online databases can help to show ownership structures where this information is freely available, but it is becoming more common for convoluted ownership structures, using offshore or low-transparency jurisdictions and nominee shareholders or "cut outs," to be used to obscure ownership.
In addition, Russia has recently removed requirements for some company types to publicly disclose ownership information, and Hong Kong now requires personal ID numbers in order to access corporate record information. This makes it more difficult for automated, data-driven solutions to find the ultimate beneficial owner.
The risk is clear; you may be engaging with a counterparty that has sanctions exposure through its ownership structure or through undeclared and obscured personal ties to sanctioned individuals and companies.
Case Study
In this redacted case study, a multinational client asked Kroll to confirm the ownership structure of an Algerian telecoms company.
Reviewing the immediate level of ownership, Kroll identified three entities, one of which was a government entity and majority stakeholder. This initially confirmed what was disclosed by the company to our client.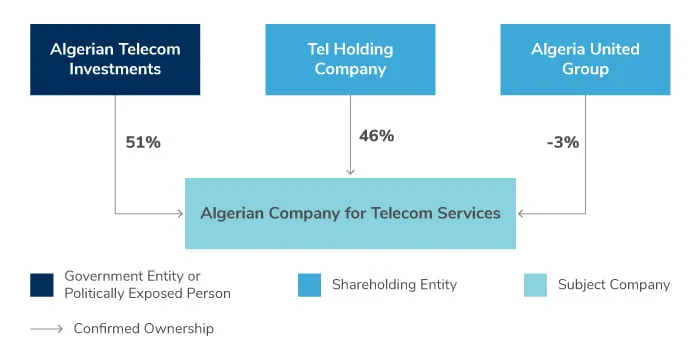 However, it was clear that the ownership structure did not stop here. On further review, Kroll identified a larger ownership network, which was traced back to a Dutch foundation that was not required to disclose its ownership in the public domain.
On further investigation through various public record sources, it was possible to identify the majority shareholder as a Russian telecoms company. Furthermore, a Russian individual was reported to have a controlling stake in this business.
This individual was identified as a politically exposed person (PEP) due to their business association with a Russian individual with close links to the Russian government and had been subject to U.S. Office of Foreign Control (OFAC) sanctions since 2016.
Enforcement
Engaging with counterparties has never come with more risk. Governments around the world are focusing heavily on enforcing sanctions regimes—the U.S. "KleptoCapture" task force has been set up specifically to pursue charges such as money laundering and sanctions evasion, whilst the UK Economic Crime Act boosts investigations into overseas ownership of UK property and unexplained wealth orders and aims to speed up prosecutions relating to sanctions breaches.
With further individual and sectoral sanctions looking to be a certainty in 2022, companies should seek to get ahead of sanctions and reputational risks by ensuring that they fully understand who is controlling the counterparties they are engaging with and identifying informal personal ties and undeclared political and business links to high-risk and sanctioned individuals.
Return to top