2022 Middle East ABC Spotlight
Anti-Bribery and Corruption Findings in The Middle East and North Africa: Navigating an Ever-Evolving Landscape
Download the Report
As part of our continuing efforts to better understand anti-bribery and corruption (ABC) program expectations from a global perspective, Kroll's most recent ABC survey for 2022 included executives and compliance professionals from two key countries in the Middle East and North Africa (MENA) region–the United Arab Emirates (UAE) and the Kingdom of Saudi Arabia (KSA). As a powerhouse of innovation and economic opportunity, the MENA region is an important area of focus for both Kroll and the wider compliance community. The MENA region will maintain its importance in the long-term, given the consistent level of interest in global businesses seeking to enter and operate across this area of the world.
Increased Risks and Concerns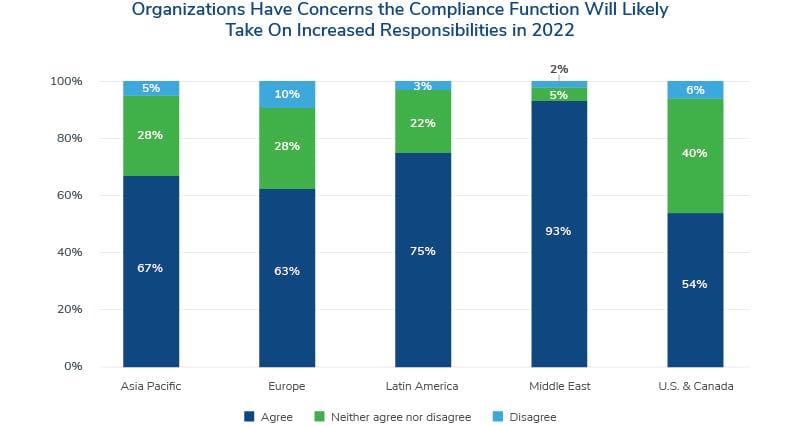 While the majority of 2022's global respondents predict that bribery and corruption risks will largely stay the same from 2021 into 2022, executives from the KSA and UAE believed otherwise, with 68% of KSA-based participants and 56% of UAE-based participants concerned that risks in these jurisdictions are likely to increase "slightly" or "significantly" over the next 6-12 months. In light of this, 93% of surveyed business leaders from both countries agreed that company compliance functions will likely take on increased responsibilities in 2022 to address any emerging concerns. At the same time, executives from both countries stated that they are optimistic toward business growth in the UAE and KSA this year as compared to 2021, as business leaders prepare to navigate a post-pandemic commercial environment and a return to relative normalcy.
When asked to opine on what factors may be most responsible for increased bribery and corruption risks throughout 2022, the majority of MENA-based participants stated they are most concerned about potential cybersecurity or data breaches, an answer which may be reflective of the massive government and industry digitization that is occurring throughout the region. Fifty-seven percent of UAE respondents cited this as a particular concern, versus 53% of KSA respondents. Other highlighted reasons contributing to increased bribery and corruption risks in the MENA region include financial pressure and the impact of remote working and/or decentralized management. The introduction of new regulations requiring companies to rapidly advance their risk and compliance processes and the growing profile of anti-corruption authorities, such as the KSA's Oversight and Anti-Corruption Authority, Nazaha, has demonstrated that the region is making great efforts to stay ahead of government and shareholder's demands, as well as compliance expectations. Additionally, an increase in IPOs and foreign investment has pushed companies in the region to rapidly improve their internal controls–a process that is set to continue throughout 2022. Amid the ongoing war in Ukraine, the MENA region has proven to be a resilient and viable emerging market hub and listing market for foreign investors, with the KSA and Abu Dhabi stock exchanges serving as two of the best performing global stock markets thus far this year.1
With opportunity comes responsibility, and local companies will need to ensure appropriate governance and compliance controls are a core component of their IPO readiness plans, so as not to fall short of regulatory requirements and best practices. At the same time, foreign investors should be implementing a programmatic approach toward assessing potential risks and ensure that their firms engage in high-quality diligence before considering this growing market.
Regional Considerations
It may not come as a surprise that executives from the KSA and UAE are concerned that bribery and corruption risks will increase over the next year. Both countries continue to have strategic financial crime deficiencies in several areas. In addition, certain elements of bribery and corruption appear to be an intrinsically accepted and embedded part of doing business in the MENA region, and there is unlikely to be an overnight resolution to this. According to Transparency International, a global civil society organization, as of 2021 countries throughout the MENA region are still struggling to achieve tangible results against corruption and there is still significant progress to be made in regard to the control of corruption in this area of the world.2 Whilst the KSA and UAE have made it clear to international observers that they are serious about drastically improving their public images when it comes to the financial crime arena–particularly with regard to terrorism financing, money laundering, the confiscation of criminal proceeds and engaging in international cooperation–there is arguably still significant progress and action to be made on the ground.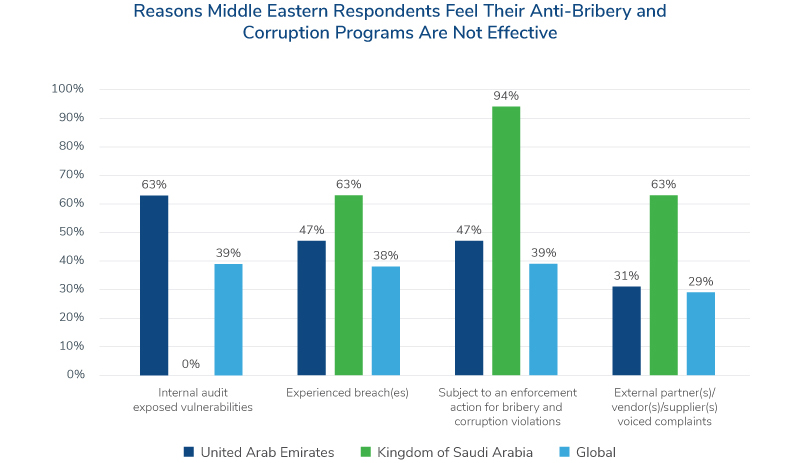 In Kroll's analysis of survey data in 2022, 94% of the KSA-based respondents that believed their ABC programs were ineffective stated this was due to their companies being subject to an enforcement action for bribery and corruption violations in the past year. Data collected from Kroll's ABC survey for 2022 heavily indicate that these violations were caused by the existence of ineffective ABC programs, proving that there is a growing need for regional companies to take the lead and implement a combination of both preventive and corrective measures against acts of bribery and corruption within their organizations. As the KSA and UAE governments continue to demonstrate a greater desire to apply international best practices when it comes to ABC strategies, this finding appears to align with the visible rise in domestic enforcement action and increased media reporting on decisions handed down or enacted in the corruption and bribery fields in both countries. For example, throughout 2021 the KSA's Nazaha oversaw the arrests of numerous government officials and company employees on charges of bribery and abuse of power, as well as other crimes.3 In the UAE, the government recently enacted a federal decree holding ministers and senior officials accountable for wrongdoing, including acts of corruption and bribery, to enhance transparency. 4
In response to widening fiscal deficits and historic concerns over the sustainability of hydrocarbon revenues–which have long formed part of the financial wealth of the KSA and UAE–both countries have shifted to a policy of rapid economic diversification in recent years. In a post-pandemic world, this policy has become a more urgent priority for these governments, as hypothetical timelines with regard to the longevity of conserved wealth and energy resources have been significantly shortened.5 In light of this, regulators and compliance teams in the region will need to ensure any ABC program strategies align with global leading practice as well as new and emerging local regulations in order to effectively combat compliance risks. These risks include but are not limited to legal or regulatory sanctions, material financial losses and severe reputational harm.
The Importance of Third-Party Risk Management
MENA respondents emphasized that they routinely apply a risk-based approach to the assessment of their third parties, including thorough due diligence, questionnaires, screening and in-person or online interviews. Eighty-one percent of MENA participants stated that they conduct due diligence or enhanced due diligence on these third parties. These participants highlighted that an enhanced level of due diligence is typically conducted when subjects operate in a "high risk" jurisdiction (as defined by their organization's ABC programs), or when a series of initial red flags have been identified either by a screening database or during other onboarding processes. For KSA and UAE respondents, the high frequency of politically exposed persons (PEPs) and opaque company ownership information were also expressed as reasons for undertaking enhanced due diligence on third parties. This finding is in line with the commercial environment of the region, where political exposure is commonplace and beneficial ownership information is often hard to find because of a scarce public record environment.
Kroll's ABC survey results for 2022 show that there will continue to be a paramount need for enhanced due diligence regardless of the region in which compliance executives are situated, especially amid the growing number of sanctioned individuals and entities linked to global events, including the ongoing war in Ukraine. In the UAE, where there exists a large Russian expatriate population and significant levels of Russian investment, local compliance professionals should seek to ensure they are undertaking appropriate levels of due diligence and additional scrutiny as it comes to beneficial ownership, sources of wealth and political exposure.
Whistleblower Culture, or a Lack Thereof
A whistleblowing program is arguably a key component of any effective ABC program. Kroll's 2022 ABC survey results demonstrate, however, that the MENA region continues to lag behind the rest of the globe in terms of the existence of an effective whistleblowing framework. Respondents in the KSA and UAE reported the lowest incident of active whistleblower programs compared to global levels: specifically, in the KSA, 60% of respondents claimed to have an active whistleblower program, versus 62% in the UAE and a global average of 72%.
A sizeable number of respondents from both countries alternatively stated that their whistleblower programs were either in development or non-existent at present. Traditionally, the practice of whistleblowing has been a less common and widely accepted practice in the MENA region as compared to the U.S. or UK. Laws relating to the protection of whistleblowers in the KSA have historically been vague and limited to the public sector; and the limited laws that do exist in either country in relation to this area are not consistently enforced in practice. Despite this, MENA-based respondents indicated for the most part that their companies are committed to prohibiting retaliation against whistleblowers and are regularly communicating these policies to employees via online, in-person trainings or via e-mail.
Conclusions
Results from Kroll's 2022 ABC survey for the KSA and UAE show that compliance professionals from both of these countries are facing an ever-evolving regulatory and legislative landscape, similar to other surveyed regions.
In the KSA and UAE private sectors, it continues to be essential that management "lead from the top" and set by example in ensuring corporate bribery and corruption are eradicated. As a potentially positive sign, in Kroll's analysis of survey data in 2022, approximately 38% of MENA-based respondents stated they receive support for ABC programs at the board level, whilst 24% of MENA-based respondents stated they receive budgetary support "from the top" for such programs. These amounts, however, could certainly be higher.
The continued evolution and implementation of ABC regulations, combined with a growing digital economy, will inevitably lead to new challenges in the MENA region–and navigating the risks of doing business in this area of the world will continue to be an important priority for compliance professionals. Throughout 2022, third-party due diligence will maintain its role as a necessity in a region that lacks transparency and accountability. Compliance executives operating in the Middle East will need to continue to ensure that they are creating a robust culture of internal checks and balances whilst implementing thorough systems and controls that will meet regulatory expectations.
Sources:
1 https://www.wsj.com/articles/a-persian-gulf-stock-boom-draws-foreign-investors-11650884401?mod=hp_lista_pos2
2 https://www.transparency.org/en/news/cpi-2021-middle-east-north-africa-systemic-corruption-endangers-democracy-human-rights
3 https://english.alarabiya.net/News/gulf/2021/11/08/Saudi-Arabia-s-Nazaha-arrests-172-people-in-one-month-over-corruption-charges; https://saudigazette.com.sa/article/614363/SAUDI-ARABIA/Nazaha-arrests-250-government-staff-on-charges-of-corruption
4 https://www.wam.ae/en/details/1395302965616
5 https://www.brookings.edu/research/economic-diversification-in-the-gulf-time-to-redouble-efforts/#:~:text=The%20issue%20of%20economic%20diversification,2020%20(see%20Figure%201)
---
Webcast | Anti-Bribery and Corruption Benchmarking Report
Join Kroll's compliance experts for our upcoming webcast on Wednesday, June 22 where they discuss the 2022 ABC Benchmarking Report and the challenges and evolution of anti-bribery and corruption for compliance professionals.
Third Party and Vendor Screening
Third Party and Vendor Screening
Supporting corporate third-party management programs to drive risk-based due diligence decisions.
AML Compliance Due Diligence
AML Compliance Due Diligence
Kroll helps clients navigate the complexities of today's regulatory environment through a broad suite of anti-money laundering compliance screening and due diligence offers.
Compliance Program Consulting
Compliance Program Consulting
Kroll is trusted by companies worldwide to help establish policies and programs aimed toward preventing fraud and complying with anti-money laundering (AML) and anti-bribery and corruption regulations.
Anti-Corruption
Anti-Corruption
Kroll helps clients mitigate and respond to the risks associated with international anti-corruption legislation.
Anti-Money Laundering
Anti-Money Laundering
Kroll's anti-money laundering (AML) solutions are designed to help minimize the risks associated with money laundering and other illicit activities and to ensure compliance through the development and management of ongoing compliance programs and processes.
Return to top