Coronavirus (COVID-19) and Managing the Risks to Your Organization
The Coronavirus (COVID-19) is impacting businesses globally by disrupting supply chains, travel, production and consumption, threatening operations and financial markets. Companies find themselves navigating a new reality, addressing issues from crisis response and cyber threats to valuations and financial stress. Our valuation, restructuring, security and risk management experts can help you assess and manage the risks to your business and provide transparency to key stakeholders.
View Kroll's response to the coronavirus, a summary of our COVID-19 risk management services and our latest guidance below.
Our experts are also offering complimentary consultations to address the myriad of issues facing small companies, governments, first responders, and healthcare providers. Please contact us by completing this form or calling our 24/7 dedicated COVID-19 hotline.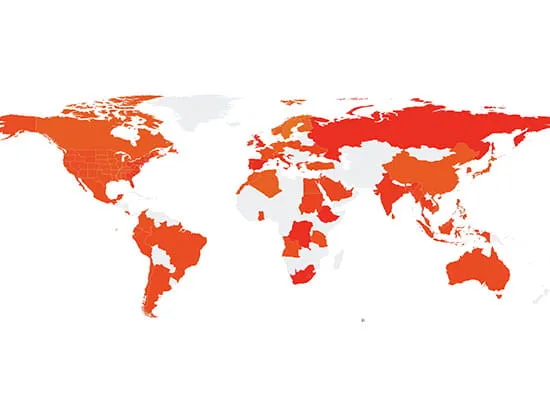 Kroll COVID-19 Heat Map – Forecasted Impacts of the Pandemic
Leveraging data and insights from approximately three dozen Kroll analysts around the globe, the Kroll COVID-19 Heat Map provides business leaders with a snapshot of forecasted economic impacts of the Coronavirus pandemic and government pandemic-related restrictions across multiple geographies and sectors.
Valuation and Asset Impairment Insights
Crisis Management and Supply Chain Insights
Restructuring and Insolvency Insights
M&A and Transactions Advisory
Private Capital Markets - Debt Advisory
European Mid-Market Debt Update – Spring 2021
Private Capital Markets - Debt Advisory
M&A Advisory
Healthcare Services Sector Update – January 2021
M&A Advisory
M&A Advisory
Kroll Institute Fellow Efraim Chalamish shares timely insights on the deal and sector landscape in Israel, as well as equity capital markets activity and the impact of SPACs in the region.
M&A Advisory
European Chemicals Update – Q4 2020
M&A Advisory
M&A Advisory
Dow Jones Industrial Average Special Report
M&A Advisory
M&A Advisory
Canadian M&A Insights – Summer 2020
M&A Advisory
M&A Advisory
Automotive Industry insights – Summer 2020
M&A Advisory
M&A Advisory
Staffing Industry Insights – Summer 2020
M&A Advisory