Market Rates of Premier League Stadium Naming Rights Increase by Over 80% Over the Last Four Years – Rising From £74.6m in 2013 to £135.6m in 2017, Duff & Phelps Study Reveals
Duff & Phelps, the premier global valuation and corporate finance advisor, has updated its Stadium Naming Rights study, revealing that potential market rates for stadium naming rights have grown from £74.6m in 2013 to £135.6m in 2017 - an increase of over 80% - as a result of the inexorable growth in the value of Premier League rights.
Manchester United's Old Trafford ground the 'most valuable stadium' in 2017.
Market naming rights could achieve over £26m a season for the Manchester club, over £7m more than the amount of its city neighbour.
The top six clubs account for over 78% of the total market.
The study indicates that if Manchester United were to offer seasonal naming rights to its 75,643-seater stadium, this could generate £26.2m per season, £7.1m more than that of neighboring Manchester City.
The top six clubs who regularly play in European competitions account for over 77% of the £135.6m potentially attributable to seasonal Premier League naming rights. The two Manchester Clubs alone generate over 33%, and the five London clubs over 40% of the total.

Chelsea FC is in third place with nearly £18m per season potentially available, and Tottenham Hotspur FC, looking to move into a new stadium next season, might generate over £15m per year.

Despite West Ham sitting mid-table in the Premier League, its new 66,000-capacity Olympic Stadium provides the club with an opportunity to maximize its potential market worth.

With its 52,405 capacity at St James' Park and dedicated fanbase, Newcastle United ranks in the top half of the table. Leicester City FC, 2016 Premier League winners, have already secured a naming rights deal, and come in at mid-table in the naming rights league.

Commenting on the findings, Trevor Birch, Managing Director and Head of UK Sports at Duff & Phelps, said:

"Sponsorship demand for the content rights of the top clubs in the Premier League shows no sign of abating. We have seen enormous increases in rights values of the elite clubs over the last couple of years, especially regarding shirt branding and product endorsement. Although the UK hasn't embraced Stadium naming rights as enthusiastically as the United States, its potential to become an important revenue stream is highlighted by these figures. Clubs are continually looking at ways to generate extra value, and given the gilt-edged international demand for the Premier League TV rights, we may be entering a period where we start to see clubs monetizing their stadium rights. This is potentially a huge opportunity for clubs, with 40% of Premier League clubs, including Arsenal, Man City, Leicester, Stoke City, Brighton and Hove Albion all granting stadium naming rights to their grounds in recent years."

Michael Weaver, managing director at Duff & Phelps and Head of UK Valuation Advisory added:

"Over the past four years, the potential value of stadium rights has nearly doubled. In addition, we are seeing football clubs continue to explore new revenue streams. Just this season, several clubs have announced shirt sleeve sponsorship deals, such as Everton with Rovio Angry Birds. Premier League performance has a powerful value attached to it, and clubs are increasingly trying to maximize that value."

Duff & Phelps Premier League Stadium Naming Rights valuation league table: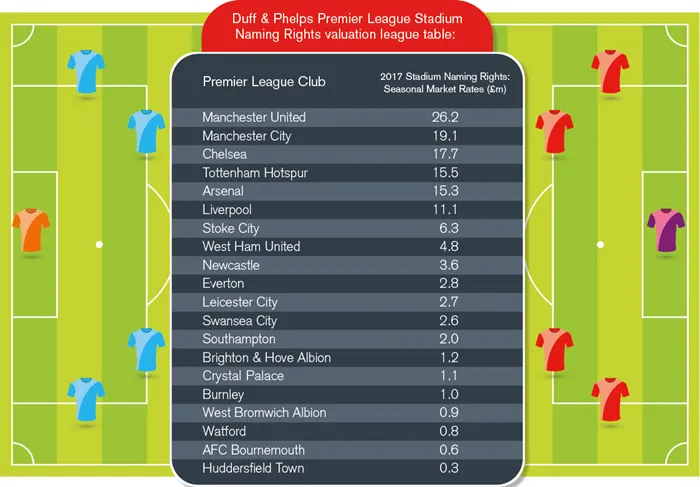 Media Coverage:
Sky Sports, Man Utd missing out on £26m per season in potential revenue, according to Duff & Phelps

City A.M, Manchester United top Premier League stadium naming rights table and could make £26m from rebranding Old Trafford

ESPN, Old Trafford naming rights could bring in £26 million per season - study
Eurosport, Old Trafford tops Premier League table for potential naming-rights values
Goal.com, Man Utd could earn staggering £26m per season if they sold Old Trafford naming rights
About Duff & Phelps:
Duff & Phelps is the premier global valuation and corporate finance advisor with expertise in complex valuation, disputes and investigations, M&A, real estate, restructuring, and compliance and regulatory consulting. The firm's more than 2,500 employees serve a diverse range of clients from offices around the world. For more information, visit www.duffandphelps.com.
M&A advisory, capital raising and secondary market advisory services in the United States are provided by Duff & Phelps Securities, LLC. Member FINRA/SIPC. Pagemill Partners is a Division of Duff & Phelps Securities, LLC. M&A advisory and capital raising services in the United Kingdom and across Europe are provided by Duff & Phelps Securities Ltd. (DPSL), which is authorized and regulated by the Financial Conduct Authority. In Germany M&A advisory and capital raising services are also provided by Duff & Phelps GmbH, which is a Tied Agent of DPSL. Valuation Advisory Services in India are provided by Duff & Phelps India Private Limited under a category 1 merchant banker license issued by the Securities and Exchange Board of India.
About Trevor Birch:
Trevor Birch is a managing director at Duff & Phelps. He focuses on sport and has more than 30 years professional services experience. A former professional footballer, he has continued his passion for the sport whilst pursuing a career in accountancy.
Trevor is best known for his executive appointments at several football clubs, most notably as Chief Executive of Chelsea FC, where he led the £180 million sale to Roman Abramovich in July 2003.
Trevor has also served as Chief Operating Officer of Sportfive GmbH, a €600m sports rights agency, and was a partner at three leading global accountancy firms.

For further information contact:
Gaby Bryson, Rostrum | [email protected] | +44 (0)203 727 3757
Notes to editors:
The research was conducted in December 2017. The valuation metric includes shirt sponsor and technical partner values, social media followers, tv rights and current naming values in addition to transfer spend and team performance over the past three seasons to calculate Premier League naming rights valuations.

Limitations of the study
The analysis and estimates presented in this study are based on extensive research on secondary sources of information. We have not undertaken any independent verification or carried out any due diligence on the data used or considered, nor have we verified its factual accuracy in the current context.

The conclusions provided in this study shall not be construed as marketing advice and the valuations provided in the study shall not be used for any other purpose other than general research and media consumption. Duff & Phelps and its affiliates expressly disclaim all liability for any loss or damage of whatever kind which may arise from any person acting on any information and opinions or analyses relating to the valuations contained in this study.

The valuation of intangible assets is not a precise science and the conclusions arrived at in many cases will of necessity be subjective and dependent on the exercise of individual judgment. There is therefore no indisputable single value and we normally express our opinion on the value as falling within a likely range. Others may place a different value on the various rights.

All trademarks, trade names, or logos referenced herein are the property of the respective companies and owners.
---
Valuation Advisory Services
Valuation Advisory Services
Our valuation experts provide valuation services for financial reporting, tax, investment and risk management purposes.
Return to top