Illicit Trade Investigations
Helping clients combat counterfeit goods, gray market sales and unfair competition from untaxed imports.
Contact Us
Explore Expert Services
The economy is governed by intellectual property protections, safety standards, import duties and trade restrictions. However, parallel to this is a universe of counterfeit goods, gray market sales and other illicit trade that undermines the requirements under which lawful businesses operate. While the culture of this underground world may make it appear undisciplined, it is highly sophisticated, and causes significant damage to above-board enterprises that play by the rules. That damage can take the form of counterfeit goods that tarnish brand reputations, gray market sales that undermine distribution strategies or unfair competition from untaxed imports offered at a discounted price. The damage caused by illicit goods can be even more tangible, such as substandard car parts or counterfeit medicines.
Kroll's experience and global resources in business intelligence and investigations make it uniquely positioned to help enterprises penetrate the illicit economy, prevent encroachment and recover losses. We accomplish this though a rigorous multistep process that begins with mapping the underground manufacturing and distribution network. This mapping is a forensic process that requires intelligence-gathering ranging from identifying discrepancies in bills of sale and conducting innocuous-appearing industry surveys to participating in dark web chat rooms where contraband goods are sold. We augment this intelligence gathering with advanced statistical modeling and sampling methods to provide an accurate analysis of the extent to which counterfeit or diverted products have penetrated a marketplace—a compelling foundation for subsequent damages claims.
Once mapping is complete, we identify the point in the distribution network that we can most easily infiltrate. Kroll has extensive experience in approaching illicit traders and building relationships with them to gather key information. We make controlled purchases from online and real-world sources and test authenticity with verifiable chains of collection and custody. Finally, we work with our clients, their legal teams and local civil and criminal enforcement authorities to effectively recover losses.
We can also conduct extensive audits of operations both within the enterprise and across its supply chain and distribution network to identify illicit trade vulnerabilities that may exist in physical security, cyber security, audit and control, and processes and procedures. Kroll's experts in these various functions can then design remediations and work with internal teams on implementation to minimize risk posed by the underground economy.
Case Study – Delivering Actionable Intelligence on Illicit Trade
A global consumer goods firm was losing market share in an EU market due to a rival's products being smuggled in at a lower price point without paying duties. The products originated in North Africa, and Kroll was engaged to gather intelligence to help the client understand the likely smuggling routes to enable effective disruption by the nation's tax authorities, as well as the scale of the smuggling. Law enforcement and other authorities in Europe thought the illicit trade was being conducted in small volumes so had not yet taken action.
Part of our methodology involved the use of crowdsourcing, or gathering intelligence by soliciting contributions from a large group of people, approximately one million social media users in North Africa were contacted to take part in the study. With no incentives offered, a few thousand responses were returned. By process of elimination and extensive analysis, we were able to produce accurate and actionable intelligence about wider shipping patterns. Having analyzed these broader trends, we were ultimately able to speak with five high-quality sources who were directly involved in the illicit trade and willing to share how large quantities of the goods were shipped from North Africa to Europe. These individuals detailed the specific role played by, for example, people smugglers and drug traffickers as well as the routes used to ship large volumes of goods. The goods were not being shipped by sea, which would have been the most direct route. Instead, they were flown to other European countries, then taken to the target market by road.
Ultimately, the client was able to use our findings to effectively lobby European law enforcement and customs authorities to disrupt the illicit trade.
Calvin D'souza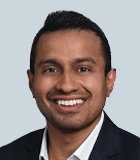 Calvin D'souza
Managing Director
Forensic Investigations and Intelligence
Toronto
Richard M. Plansky
Richard M. Plansky
Regional Managing Director, North America
Forensic Investigations and Intelligence
---
Investigative Due Diligence
Investigative Due Diligence
Customized investigations providing actionable intelligence to help make critical decisions.
Supply Chain Investigations
Supply Chain Investigations
Creating a detailed portrait of a supplier's financial stability, operations, compliance and culture.
Competitor Intelligence
Competitor Intelligence
Providing clients with a holistic and detailed dossier on the critical issues for the matter at hand.
Return to top