Kroll Portfolio Assessment Platform
An end-to-end solution for capturing, analyzing, and creating value from ESG data.
Request a Demo
How it Works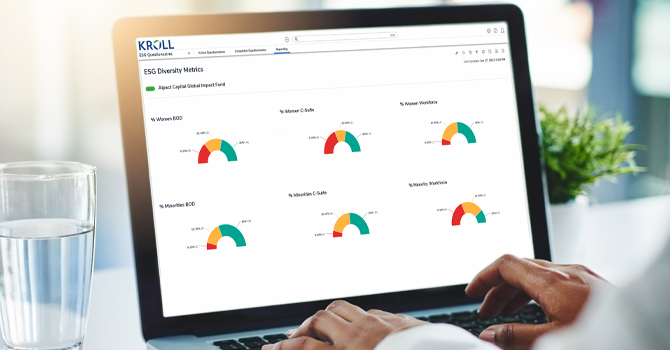 Backed by Kroll
As ESG reporting expectations rise among capital allocators, regulators, and shareholders, our platforms comprehensive questionnaire ensures you'll have the information they need. Built to align with leading ESG frameworks like TCFD and SFDR, and continually updated by our expert team, our questionnaire guarantees the information you collect is precisely the information you require.
Streamlined Data Collection
Our intuitive web portal makes it easy to collect ESG data from portfolio companies - simply send the link and track completion in real-time. And if a company falls behind on its reporting, it just takes a click to send them a prompt.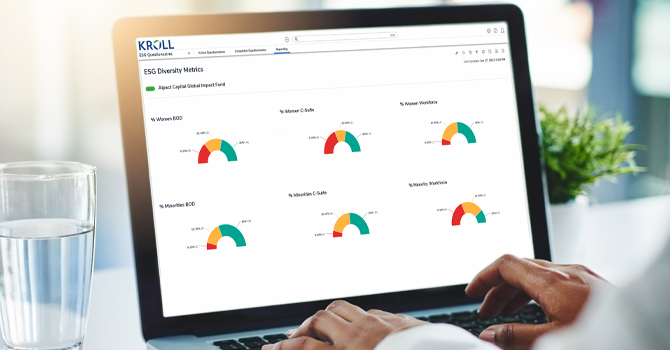 Comprehensive Analysis
The responses collected through the portal are automatically assessed against established best practices and scored. High and low scores are flagged and highlighted in a customizable dashboard across a portfolio or within an individual company.
On Demand Reporting
See all portfolio or company level ESG data OnDemand. Generate reports for investors, auditors, or regulators with ease.
What it Delivers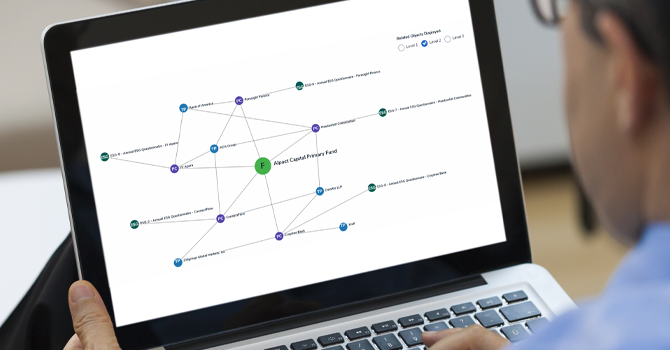 Say Goodbye to Data Collection Headaches
Our platform eliminates the time, effort, and frustration associated with trying to collect, consolidate, and analyze ESG data through manual processes.
Pro-active approach to ESG management
Know where your portfolio stands at any moment and identify gaps to remedy gaps pro-actively during board conversations. Feel confident in your stance in regards to ESG and ensure alignment with investment community expectations.
Reduce Non-Compliance Risk
Our platform ensures the ESG data you need to validate claims and respond to requests for information is always at your fingertips.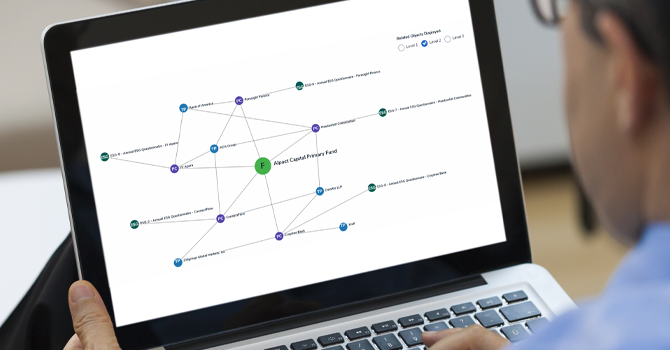 Identify Potential 3rd Party Liability
Our platform helps identify ESG violations by portfolio companies or 3rd parties that could jeopardize your reputation and returns.
Attract Investment from ESG Focused Investors
As capital allocators increasingly prioritize ESG criteria for funding decisions, our platform empowers you to leverage the impact data from your investments, maximizing your chances of securing ESG contingent capital.

Optimized ESG Questionnaires
Streamlined Data Gathering

Expert-Led Automated Response Scoring

On Demand Reporting
Digital Technology Solutions
Digital Technology Solutions
Enriching our professional services, our integrated software platform helps clients discover, quantify and manage risk in the corporate and private capital market ecosystem.
Environmental, Social and Governance
Environmental, Social and Governance
Advisory and technology solutions, including policies and procedures, screening and due diligence, disclosures and reporting and investigations, value creation, and monitoring.
Return to top